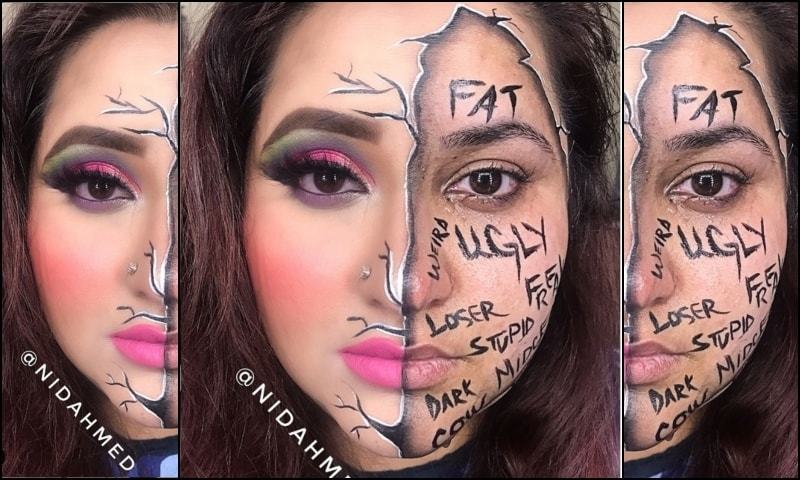 Body shaming, bullying, abuse, and what not. We as women have come across numerous situations and mostly women are the victims. The society has suppressed us from raising our voices against the so called system but this digital era has given everyone of us some hope. And the person who actually stood up is Nida Ahmed, A Pakistani make-up artist. Nida pulled off the #bratzchallenge by storming a post on her Instagram.
"DO NOT BE That person who likes to bring other people down. DO NOT! Your words could have such a negative impact on someone that people end up taking their life.
STOP BEING THE REASON OF SOMEONE'S LOW ESTEEM, STOP BEING THE REASON FOR SOMEONE'S SUICIDE. STOP!
It is said that if you have nothing good to say then don't say it at all. It is none of your business how someone looks. Being fat is not a crime, being short is not a sin, having acne is not weird, having a dark complexion is not ugly, being skinny is not wrong. STOP LABELING PEOPLE WITH MEAN WORDS!!!! Not everyone is strong to take those words and not bother about them. I am strong today because I fought against it all but not everyone has the power to fight against it. Body shaming or character shaming is not right. Understand this," writes Nida on her Instagram.
"Respect people and love them for who they are. Do not give unsolicited advice on issues that do not concern you. Everyone is different and learn to accept those differences," she adds further.
The picture itself speaks so loud. We need people like her for a better society where girls are not only respected because they are girls but they are the power. We should not be concerned about what others say but only what we think about ourselves. More power to this girl and all the powerful girls out there.