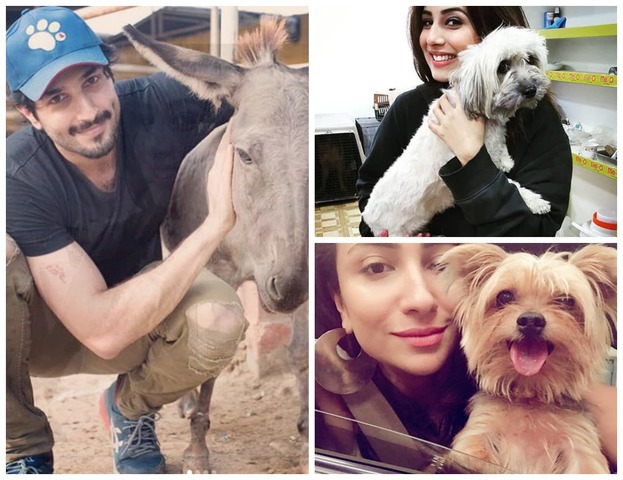 We live in a country where, sometimes, human lives are hard to protect. So it's not easy having a dialogue on the rights of animals. However, times are changing and people are paying attention to the well-being and protection of animals. Although it's not an easy task to spread awareness about animal rights, support from influential and famous people always helps. Similarly, Pakistani celebrities have started acknowledging the cause and spreading awareness.
Recently, Hamza Ali Abbasi took to his twitter to support animal rights. He posted about an organisation, ACF Animal Rescue, which is working to rescue and help animals. Hamza asked people to help raise funds for the organisation so that they can expand their shelter for the animals. With the influence of a popular celebrity like Hamza Ali Abbasi, it would help the organisation a great deal.
The famous VJ Anoushey Ashraf is a strong advocate of animal rights. She believes in adopting rather than buying the animals. Time and again, she has emphasized on the welfare and safety of stray animals like donkeys, cats and dogs. She thinks it's important to take measures to control the population of strays instead of killing them. Anoushey has encouraged the spaying-neuter campaign by ACF.
Ushna Shah is another vocal supporter of animal rights. She uses her social media to spread awareness about animal abuse. Ushna is the official celebrity ambassador of Todd's Welfare Society. This Lahore based NGO works for the rehabilitation of the sick, injured and abused animals. Ushna believes that animals should be respected and protected in the same way as humans.
The 'Janaan' famed actor, Bilal Ashraf has been working with the ACF Animal rescue for the welfare of animals. He frequently spends time with the injured animals which are rescued by the ACF. Bilal feels that it's important to raise our voice against the animal abuse and essential steps should be taken to prevent it. Although the involvement of celebrities with this great cause is helpful, the government should pass laws against animal abuse. There should be proper shelters and homes for the stray animals. The people should be educated and taught to look after them. The whole nation should work for the betterment of these precious creatures.
We all appreciate actors speaking for the Animal Rights and spreading awareness to make the world a better place!