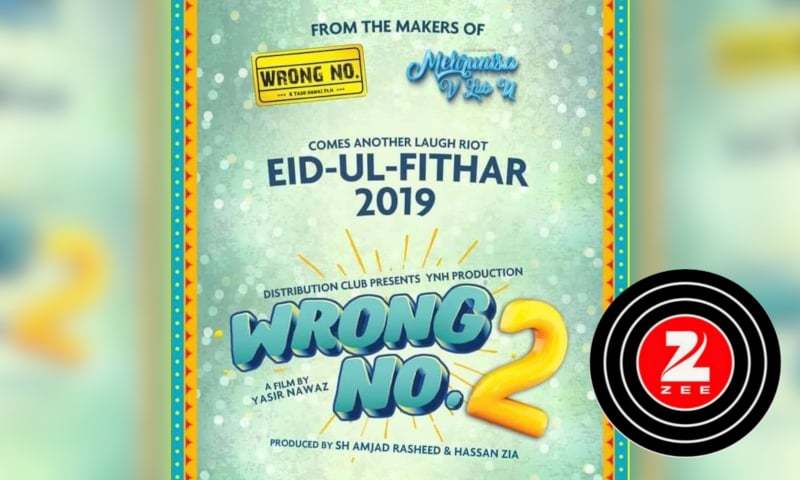 Music rights for the Yasir Nawaz directed film sold at a record amount of approximately 40 lacs

The Pakistani film industry is shaping up to be a more economically viable entity, albeit slowly but surely. The growth is evidenced by the availability of many recent hits over digital platforms such as Netflix, expansion into lucrative foreign markets such as North America and Europe, and the premium prices commanded for satellite rights. Evidencing this progress, Wrong No. 2's music rights were recently sold for a never commanded before price of 40 lacs to Zee music.
First Spell Of Shooting Begins For Wrong No. 2 In Hyderabad
Hassan Zia, who has produced the film in collaboration with IMGC Global Entertainment, sounded bullish on the development. Confirming the news to HIP, he stated "The actual figure is not exactly 40 lacs, but quite close. Although this is just a start for our film industry, we are encouraged that our film's music rights have been purchased at such a price by Zee Music. The amount is better than what we had received in 2017 from T-Series for Mehrunnisa V Lub U, my previous production. Our goal is to sell Wrong No. 2's digital rights to the same company as well. We hope to recover at least 35% of our budget prior to release."
Elaborating on the film's music, Zia explained that like the movie, its compositions have a commercial flavor. "The soundtrack comprises of a total of 6 songs, of which 5 are featured in the movie. Due to our decision to keep its length at roughly 2 hours and 10 minutes, we could not feature 1 song." Seemab Sen, who had earlier scored for Mehrunisa V Lub U, has been retained as the composer. With an array of genres, including a mehndi number and romantic ballads, the soundtrack will have something that appeals to every listener. It will be distributed by Zee Music to its licensee web-portals.
Queried about the singers featured, Zia revealed "An assortment of Pakistani and Indian artistes have lent their vocals to the music. There's Javed Ali and Harshdeep Kaur from India along with prominent Pakistani talent." The lyrics too have been penned by a variety of song-writers.
Previously, Wrong No., the 2015 prequel had set many benchmarks for economically prudent film making – made at a budget of Rs 44.2 million, the movie grossed a whopping 150 million and was able to command good prices for its airline and DVD rights. This time, the same team seems to have covered even more ground as far as the commercial viability of their project is concerned.
Given the limited exhibition platform in the country, pre-release sale of film rights reduces the dependence of investors on theatrical revenues alone for cost recovery. And with Pakistani productions commanding excellent pre-release prices, Zia hopes that independent film makers would benefit as well, as they often have to solely depend on theatrical business of a film.
Wrong No. 2 is directed by Yasir Nawaz and produced by YNH Films and IMGC Global Entertainment/Distribution Club. It stars Sami Khan, Neelam Munir and Yasir Nawaz in titular roles, and is scheduled for an Eid-ul-Fitr release in early June.