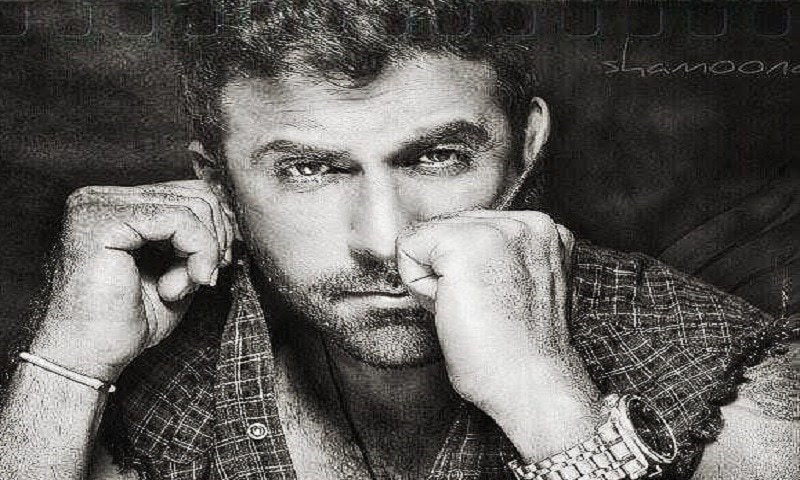 The film has gone on the floors, with the first spell shooting

SSP Chaudhry Aslam needs no introduction, he was a tough police officer in Karachi who was assassinated by Taliban in 2014. SSP Aslam had a reputation of carrying out so many successful police operations against terrorists. One of his most prominent operations was "Lyari Grand Operation" which was aimed to clear the area from terrorists in 2012.
Director Azeem Sajjad is making a biopic of SSP Chaudhry Aslam to give him a tribute for his services to this nation. The movie will not only be a tribute to the SSP Aslam but to all the serving, retired and martyred officers of the police.
We have seen Shamoon Abbasi in various dramas, telefilms and movies. He's well-known for playing villainous roles on screen. Whether it was Ramal of Waar or Danish of O21, Shamoon never failed to astound the audience. This time Shamoon will be on our screens in Azeem Sajjad upcoming movie "Chaudhry".
HIP Exclusive: Shamoon Abbasi intent on directing his first feature film "Bhook"
In an exclusive interview with HIP, Shamoon talked about his character and give us some more insight about what we can expect from the movie.
When asked about why and how did he accept the script, Shamoon replies with saying that it wasn't an easy decision. Because the movie actually involves around the people who were there with SSP sahib during those last years. Sajjad gave him some options to pick what character he would like to play, and it was not easy so Shamoon and Sajjad had several meetings before he finalized his option.
Shamoon while talking about his role said, he wouldn't be able to give much details about it but he's playing the role of a person who was actually very close to Aslam Chaudhry and played a pivotal part in his life in fact he even was there on the day he was assassinated.
Shamoon also added that they had recently started the shooting spell, they are hopeful that the movie would be releasing by the third-quarter of this year. He further added that director Azeem Sajjad is doing an excellent job with all the actions and sequences, and with Saleem Dad on the camera he says it's like cherry on top. Shamoon's first day was super energetic. While saying that he added that as it's not a typical rom-com they are putting a lot of effort and energy in it. The audience could expect an action movie which is based on reality with a filmy tarka in it.
While talking about SSP Aslam's role, Shamoon told HIP that Chaudhry Aslam's cousin Mr. Tariq is portraying as him in the movie. Being his cousin he also have a physique like him, Mr. Tariq is also a police officer and he has accompanied SSP Aslam in more than 200 operations. This is the first time he is acting in any medium and director Azeem Sajjad is teaching and helping him for this role.
Furthermore, Zara Abid who is a known face of fashion industry is also doing he debut with this film. Amir Qureshi, Tipu Shah, Arif Motiwala, and so many faces of industry will be a part of this forthcoming biopic film.