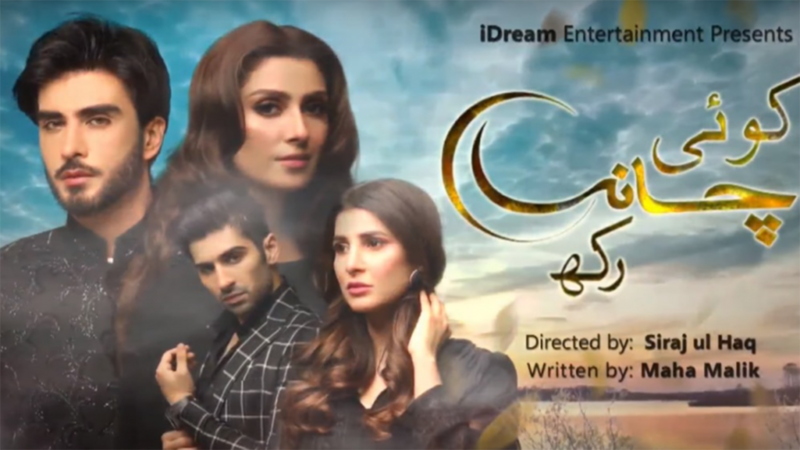 The drama has ended, making the viewers all emotional.

Last night's episode marked a remarkable ending of Ayeza Khan, Imran Abbas-starrer Koi Chand Rakh which finally concluded on a great note (We were not expecting though). As opposed to the common trend here the hero could not convince the heroine on living a happily ever after with him forever, rather, the heroine made her own call and chose to live a life on her own terms and not to surrender before the ungrateful hero. This indeed gave out the much needed message of women empowerment and women rights to the audiences.
Zain who had made his decision of living the rest of his life with Rabail and Ujala, came to take Rabail along with him. Rabail's mamo and mami also advised her to retreat to her house and begin a new life with Zain, but Rabail had already made up her mind and did not pay heed to anyone's advice, which we believe was very good and daring on her part. Initially, when she came down from the stairs she had a suitcase with her, which made us believe that she has given up and is ready to forgive Zain, but later she very strongly said a clear No to Zain and demanded Khuula. Her dialogues made us feel the pain she has gone through when Zain left her alone but his betrayal proved to be blessing for her as it made her stronger than ever and she realized her potential during that phase of her life. Disheartened and disappointed Zain left her house realizing that some mistakes can never be repented.
We were extremely glad at Rabail's decision to move on and never to look back at the guy who has returned to her after exploring his options but what came as a surprise was Rabail's confession of love to Umair, while he was not expecting it a bit. She finally surrendered to Umair's loyalty and love for her. The scenes between Rabail and Umair were really cute, the rain, the sounds of thunderstorm and Umair and Rabail together was a delight to watch.
Nishal's negativity for Rabail remained the same till the end. When Zain returned back home she kept whining over his being with Rabail and complaining over it. Despite going through so much, Nishal did not clear her heart for Rabail and continued with her negativity.
All in all, Koi Chand Rakh was worth a watch and the last episode was better than what we had expected. Comparing the actors, Muneeb Butt definitely stood out. Imran Abbas, however, was very average throughout the drama as opposed to his earlier performances on small screen. Ayeza Khan did a good job and Areeba Habib did pretty well considering the fact that this was her debut play. The direction of the drama, however, lacked much especially there being no focus on details. The drama could have excelled and made waves for the message it gave out if the director had a better approach and vision to the story. Nevertheless, we enjoyed following it throughout and liked it. For those who have missed it while it was on air, please do give it a watch on YouTube.