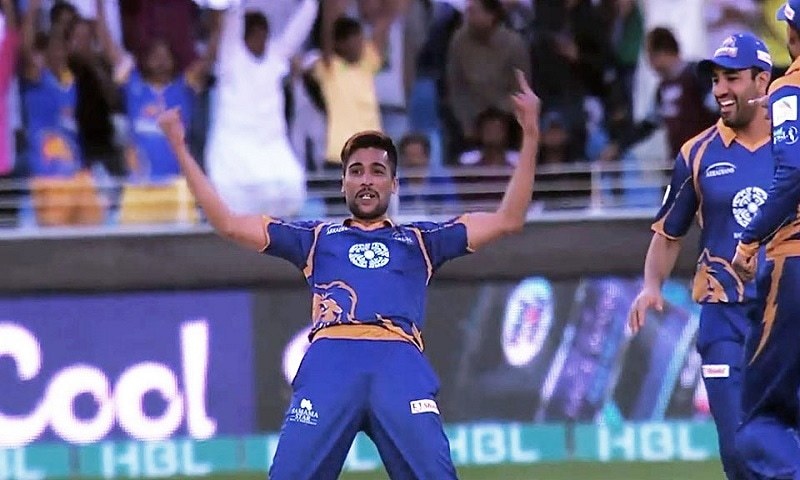 There are few enduring images of Mohammad Amir. Out smarting Tillakaratne Dilshan in that 2009 T20 final, that...
There are few enduring images of Mohammad Amir. Out smarting Tillakaratne Dilshan in that 2009 T20 final, that snaking delivery to Mitch Johnson in that fateful tour to England or more recently getting the better of Virat Kohli twice in two balls, in the Champions Trophy. There are other moments which stand out too but you get the point. It is a fast bowler getting the ball to talk, making things happen, getting batsman out. A wicket taker, a match winner when there is pressure, is how people like to categorize him.
However, in recent times as wicket's column often displayed the number 0 for Amir, there has been more scrutiny of Mohammad Amir's abilities and his role. Should be in the side? What is his role? How can Pakistan maximize and take advantage of his skill set?
According to CricViz Mohammad Amir is not an effective strike bowler (wicket taker) in PSL power plays. However, he ranks 3rd in terms of lowest economy rate, 5.57 among bowlers who have bowled at least 10 overs in the PSL Power plays.
Yesterday, largely due to the sumptuous partnership between Babar Azam and Liam Livingstone Karachi posted a substantial total. This allowed Imad Wasim to be slightly on the defensive, in a good way. There was little need to go for wickets and over attack. Amir, was not only frugal in the power play but picked up wickets of Moores. He went for 3 in his 1st over, and 6 in the 2nd. For a team defending over 180 this was ideal.
Before his 3rd over, Multan had come back thanks to that 24 run over. Multan needed 12 an over. While, Amir went for 13 thanks to a six and a couple of wides, he got rid of the danger man Andre Russell. Nonetheless, Sohail Khan's poor day continued as Shahid Afridi and Hammad Azam hammered 20 of his over.
Long-standing problems haunt Lahore Qalandars in PSL'19
Multan were now perhaps ahead in the game with just 20 needed of 12. Amir however, picked up both Afridi and Hammad Azam to finally finish the Sultan's resistance. Sohail Khan had 16 runs to defend, which he did despite conceding a boundary to Mohammad Irfan.
On a day, when his fellow Pakistan pacers Junaid Khan, Mohammad Irfan, and West Indian Andre Russell went for over 8.25 rpos, Amir conceded just 6.25 runs per over. Along with Shinwari and Imad Wasim he chocked Multan to submission. Eventually, he picked up the rewards with his 4 wickets.
For the team management, possibly it is time to see him more as a defensive option as opposed to aggressor at the top of the innings. With his experience, and left arm's angle, perhaps it is time to use him later in the innings. Unless of course there is swing or seam available.