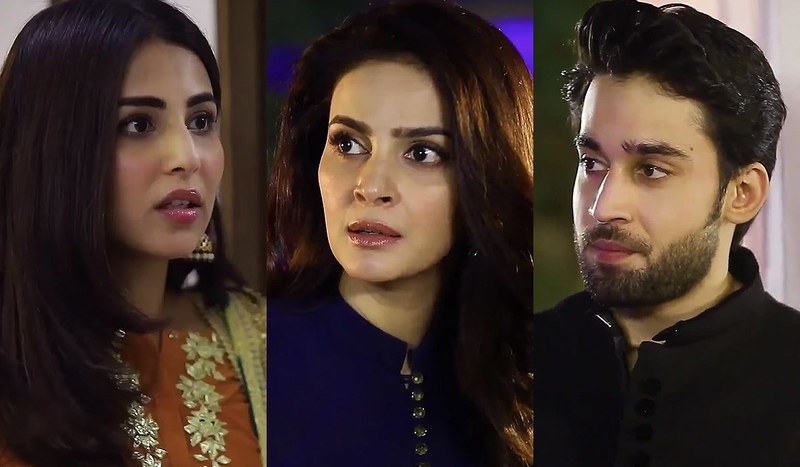 Oh boy! What an amazingly directed episode it was. Badar Mehmood had done a superb job and is doing justice with ...
Oh boy! What an amazingly directed episode it was. Badar Mehmood had done a superb job and is doing justice with his job as all the scenes are perfectly assembled and the story does not seem dragged. Episodes starts from where the episode 6 lasts, and it was really heart breaking to see Mannat's mother telling her to let go and to apologize to Wajih. No doubt she is right from a mother's point of view, she does not want Mannat to face the ugly face of real world. She fears that her husband would choose his brother over her and she would be left alone to fight. On the other hand, it is perfectly shown how a poor man struggles to find justice. Police inspector has accepted bribe from Wajih or his brother and is shown talking to a person to handle Nayab's father.
Wajih's attitude has changed and seems like he has brought himself together. He is not spiraling anymore, it's like he is at peace after destroying Mannat's tranquility and is kind of enjoying to see her suffer in pain because he is so sure that no one would ever believe her. He knows that Nayab's step mother is a rapacious woman and would agree to do anything for money, he bribed her so that she would convince Ramzan to not to further pursue the case against him.
Mannat's real fight is to get justice for Nayab, but nobody is ready to stand by her even her own friend and sister-in-law Haya who was also Nayab's friend refused to believe her and told her that she lost her mind and need to see a doctor. Even when she tries talking to Shayan he straight up told her that she does not want to talk to her about this issue and denied everything she told him. This scene has some melancholy effect in it as it shows a very realistic mindset of a desi man who is not willing to listen anything about his family and is not ready to stand with his wife in this battle.
Yawar actually knows everything from the beginning and all of his skepticisms are cleared when he sees Wajih's bank statement. Wajih finally confesses everything in front of him, but instead of questioning him Yawar has shown Wajih that he will stand by his side and will not let anything happen to him. Maybe this much excess love has made Wajih into a person he is today without a sense of right and wrong.
Loved how Mannat reacted when she saw Wajih getting humiliating by Ramzan. She is trying hard to be a strong person and want to see Wajih being held accountable for his felony but she does not know how because not a single person is ready to belief her. She is fighting a war with her demons and only want the culprit behind bars. Mannat is quietly observing everything and trying to think rationally to decide what her next stop should be. Although not much really happened in this episode, but they successfully showed how everyone is standing with Wajih and how he and his brothers will buy everyone off with money whoever will try to stand against them.