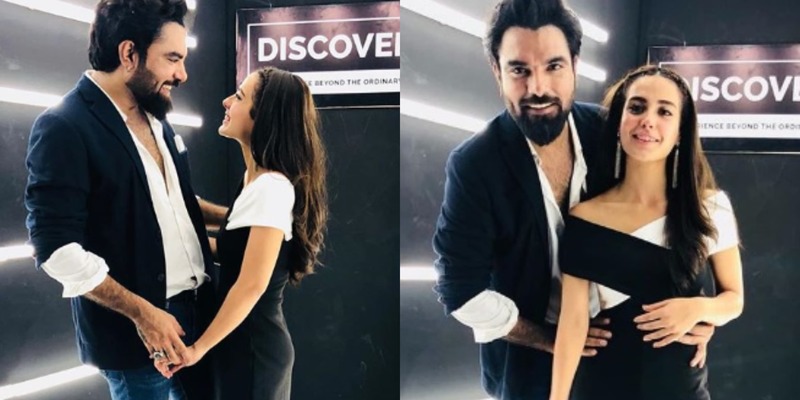 Until and unless you live under a rock, you must gave heard about Iqra Aziz. She is the most popular and ...

Until and unless you live under a rock, you must have heard about Iqra Aziz. She is the most popular and sought-after drama actresses of recent times. Although she has been working in dramas since 6 years, Iqra Aziz became a household name after her drama 'Suno Chanda' came out. Every director and producer wants her to do their dramas. Every brand and designer wishes for her to represent them. At such a young age, Iqra Aziz is going at a full speed and her success knows no bounds.
Recently, the rumours about Iqra Aziz dating the actor, Yasir Hussain, are making rounds on social media. They have been seen together frequently and there are countless pictures of them on their respective Instagram accounts. While talking to BBC Urdu, Iqra cleared the dynamics of their relationship. She said that Yasir Hussain came into her life when she was going through hard times due to her habit of overthinking. She was on the verge of becoming depressive and was surrounded by negativity. Yasir Hussain brought a lot of positivity in her life. Yasir has a very positive perspective about everything and Iqra is also trying to adapt that. She said that she doesn't accept change easily, however, Yasir's presence has made it easier for her to welcome positive changes. Iqra described Yasir as a good friend who is always there for her.
When asked about playing non-glamorous characters, she said that she does not want popularity on the basis of glamour or allure. She talked about her character Noori, Ranjha Ranjha Kardi, where Iqra has not used any makeup. She described the character as complicated personality which is not white or black. She said that Noori is not famous for her glamour but the multiple facades of her personality.
This pint-sized beauty is climbing the ladder of fame very quickly and no slowing down. We cannot wait to see what Iqra Aziz has in store for us in the future.