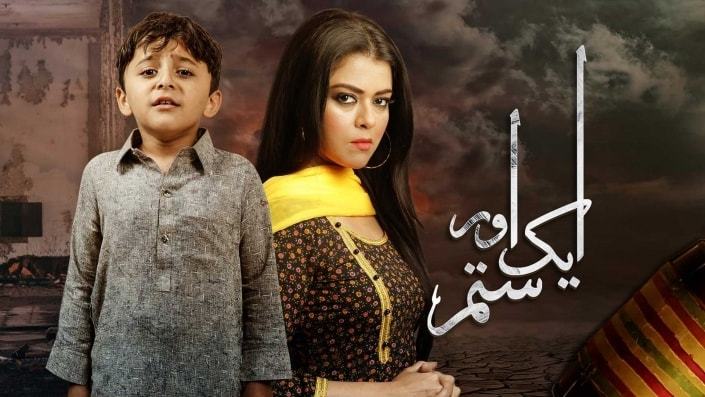 All set to air on APlus Entertainment from today, Eik Our Sitam is a very intense drama bringing to light another...

All set to air on A plus Entertainment from today, Eik Aur Sitam is a very intense drama bringing to light another thoughtful and subtle issue of resentment. The drama stars versatile Maria Wasti and international actor Alyy Khan along with Beenish Chohan and Fawad Jalal. A few teasers of the play have been released by the makers and from the looks of them the story of the play seems very gripping and intriguing.
Teasers reveal that the story is a way too harsh and revolves around two different mothers and a delineation of the society where every mother has a soft corner and fragile sentiments for her own children, but gets totally different when it comes to others. A family story depicting some of the harsh realities of the society, the drama sheds light on various themes such as mother-child relationship, the power of karma, polytheism and lot more.
Here check out the gripping teasers:
Another glimpse of the storyline,
Earlier, Hip connected with Maria Wasti to know more about her character in the play as the actress is known for choosing substantial roles.
"My character is an intense one and I had a little bit of difficulty doing it. Rukhsana (her character in the play) is a negative character and I've done such characters before that as well, but it is still challenging to put on and portray such characters because negativity always hurts and when you don't possess those overly cynical traits, it feels like you are going against your own self and morals which is heart wrenching,' the actress had revealed with a heavy heart.
Exclusive: Maria Wasti talks about the intense role in her new play
Recalling one of the scenes from Ek aur Sitam, she added;" The overall character is not in accord with my personality and specially the scenes where I had to be cruel to a kid. That was woeful because as a person I can't bear such things and that too with a kid."
Produced by Zeeshan Khan (TNI and Evolution Media), Eik or Sitam seems to hit the audiences hard due to its relatable storyline. We are also looking forward to this one!