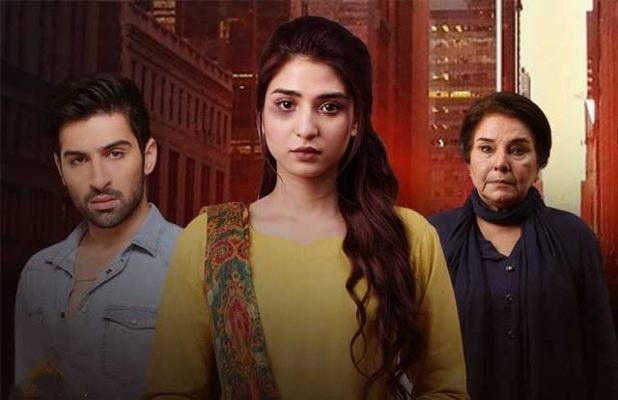 Ramsha Khan has never been a put-down in any role. She gets into the character and then we don't get to see Ramsha anymore but her character. Her drama serial "Kaisa Hai Naseeban" on ARY Digital is giving us goosebumps with every new episode and compel the audience to question their own rationality and behavior.
The serial written by Samina Ajaz, directed by Ahmed Butt and set in motion by Ramsha Khan and Muneeb Butt, depicts the society that promotes marital abuse in a bit depressing way yet being liked by the audience.
The dual episode of 20th Feb had nothing but few engrossing twists. Ahmed was always a traitor and Maryam was always a victim, however, in this episode she decides to speak up but her father doesn't get the enormity of the issue and as every typical father, he wants his daughter to make compromises and save the marriage. On the other end, Ahmed, getting the sensitivity of the situation, lies about his mother's heart attack and traps her again. After getting back to Malaysia, along with Maryam, Ahmed tears her passport and the episode ends with a vague trailer to add on suspense.
The serial is very depressing, but obviously an eye-opener for the parents who, knowingly or unknowingly, force their daughters to go through the hell just to save their marriage. The factors that promotes domestic and marital abuse have always been there around us but nobody is ever all ears nor talks about it.
One of the utmost reasons that makes a girl to suffer are the expectations that their parents put across through various gestures and let their girls know that they have to save their marriage at any cost or they won't be acceptable after that and will be labelled as the most vile woman.
Secondly, the blind trust shown in the serial is something that should be avoided as it could get you in trouble any time.
The serial also portrays that how our society never gives confidence to our daughters to take their own decisions and learn from it. We try to make decisions for them and then expect them to face the fire alone.
It's not parenting, it's just a slavery that you expect from your daughter.
Exclusive: Junaid Khan and Muneeb Butt Chat About New Play With Ayeza Khan
Thanks to such drama serials for raising such profound issues that fly in the face of humanity.