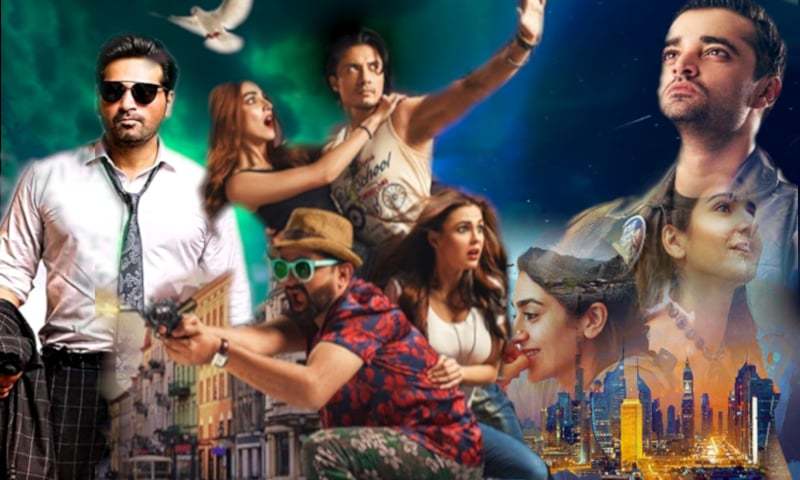 Some of the recent audience's favorites are being screened again at major theater chains

The previous year marked many milestones for Pakistani films. Not only did the usual romantic comedies fare well, animated films and non-traditional dramas also made their mark at the box office. Taken together, Pakistani films posted their highest aggregate earnings for a year in the country, and recorded healthy figures from the overseas market, too.
Following the recent Pulwama attack, a patriotic wave has been witnessed in country with some theaters choosing to pull back on content from across the border. Large chains such as Cinepax Cinemas and Universal Cinemas have opted to screen current blockbusters that won much audience appreciation, from today (Friday) onwards.
Here, we give you a comprehensive list of films you can catch at your favourite theater in case you missed them or if you want to enjoy them again with family and friends!
Jawani Phir Nahi Aani 2
Revolving around the shenanigans of the well-known band of man bros, this sequel to 2015's Jawani Phir Nahi Aani won much praise for its mature yet tongue in cheek handling of India-Pakistan issues. Following its Eid-ul-Azha release last year, it broke the records for the highest grossing film in the country by crossing the 50 crore threshold for the first time. The ensemble cast featuring the two top stars Humayun Saeed and Fahad Mustafa was in top form, and this is one film with repeat value that you can watch to ensure a laughter filled weekend night.
Teefa in Trouble
Ali Zafar debuted in Pakistani films with Teefa in Trouble, and what a debut it was. The movie recorded the highest non-holiday single day number when it collected 2.5 cores on its opening day. Ali Zafar's comic timing was on spot, and Maya Ali impressed too with her screen presence. The action comedy had a hit soundtrack to back it up, and the song and dance numbers were tastefully shot, too. This is recommended if you prefer your entertainment to be not too cerebral and simply want enjoy your night out.
Parwaaz Hai Junoon
Parwaaz Hai Junoon featured audience favorites Hania Amir, Ahad Raza-Mir and Hamza Ali Abbasi as leads, following their journey from air force trainees to established pilots. It performed very well when released alongside JPNA2 and Load Wedding last year. If you are a romantic at heart, you would not want to miss out on the romantic track in the film -- Hania and Hamza's screen chemistry is pretty much the highlight here. Parwaaz Hai Junoon would appeal to the die-hard romantics or those who want to spend quality time with their significant other.
The Donkey King
This animated film was unique in its ability to appeal to both adults and children, and to have two different meanings for both sets of audience. Featuring political satire aplenty, the movie otherwise has a straightforward storyline that is a hit with kids too. Production values are top notch and the film made a major impact at the box office towards the end of last year. Watch it for the laughs, and the kids will have a blast too.
Pinky Memsaab
The Dubai based expat relationship drama revolving around the highs and lows of a bond between an upper class socialite and her maid won much critical praise. Kiran Malik and Hajra Yamin pitched in solid performances too, as the two female leads. Pinky Memsaab deserves to be watched for its nuanced take on relationships without delving into the usual stereotypical screen tropes. If you prefer your cinema to be intelligent and mature, be sure not to miss out on this one.