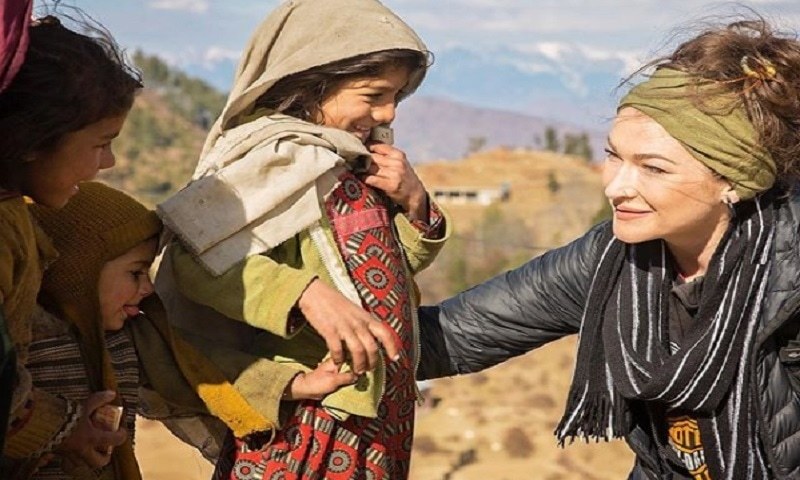 There are no words in the English language that can describe the essence of the Pakistani people: Rosie

Pakistan Awaits is a campaign from Oman that invites travelers from all around the world to help promote the hidden beauty of Pakistan. One such traveler is Rosie Gabrielle, who has been in Pakistan since December, 2018. It is safe to say that Pakistanis have done something right, because we have stolen Rosie's heart!
Rosie Gabrielle is a Canadian Vlogger, who travels around the world on her motorbike, capturing her experiences on her Instagram and YouTube accounts. Ever since she set foot in Pakistan, she has been welcomed by everybody and has been having the best experience.
Rosie has been to Lahore, Swat, Kasur and Multan and is on her way around Pakistan on her motorbike. Rosie has appreciated how comfortable she feels at Pakistan because of the hospitality and generosity of the people
Using her social media as a way of documenting her journey, she wrote, "There are no words in the English language that can describe the essence of the Pakistani people. Since arriving, I have witnessed the most sincere and deepest kindness and generosity from the local people. Respectful, honorable, gracious individuals, who have no intentions other than to serve others and to treat everyone as family and as one."
She admired the rich culture, history and architecture of Pakistan, visiting beautiful places like the Wazir Khan Masjid in Lahore, the Lahore Fort and the Tomb of Rukn-e-Alam in Multan.
She has positive views about Islam and the Pakistani culture as well, because of her fortunate interactions with welcoming people. "My heart hurt. Deeply. Knowing that this world, has such a negative view on Muslim people and of Pakistan. That they have NO idea what Islam is actually about or the true heart of these people. That THEY are the ones terrorizing these beautiful peaceful souls. If they only knew. That Muslims, and Pakistani people, are model citizens for the entire WORLD. For all of humanity. That Islam is peace and LOVE. And I, traveling as a solo female here in Pakistan, have only received the highest of care and attention, from all people."
She also wrote about her adventures on a bike as a solo female traveler and how she felt safe on the streets of Pakistan. She was met with cheering and appreciation and was not afraid to be out in the open. "Countless smiles and cheers of joy as I pass people and they realize it's a female riding. Numerous offers to stay in locals homes wherever I stop, families are always inviting me to stay with them. When I stop for chai or snacks at a store, most often someone will buy it for me, or the owner will not let me pay, saying I'm a guest in their country and they would love to gift this to me. Food food and more food! wherever I go, I'm offered to eat wonderful home cooked food," wrote the avid traveler.
Eva Travels Pakistan With Jazz To Explore The Marvels Of This Country