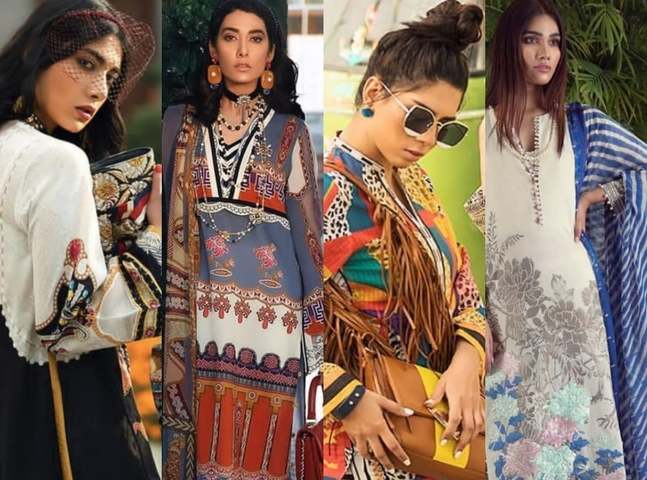 The summer sun has already set in kicking off the winter blues and chills. Textile industry is in full bloom and...
The summer sun has already set in kicking off the winter blues and chills. Textile industry is in full bloom and fashion houses are busy launching Pakistan's worldwide famous fabric "LAWN' one after the other. Facebook, Instagram and websites are engaged in announcing launch dates and uploading catalogs. The 'Lawn Wars' have finally begun and so has our excitement as we mark the dates. With this, we are getting too see some phenomenal prints and lush silhouettes weaved in vibrant colors that are absolutely rocking the summer season.
Glancing at some of the look books gave us an idea of the current trends pertaining to Summer fashions. Analyzing some of the famous brands and their newly launched collections lead us to list down the new trends.
STRIPES ARE IN
One of the most contemporary fabric print is stripes that always had its place secured in textiles and fashion. It keeps on returning until this year when Sana Safinaz decided to include it in their Muzlin collection Volume 1 and that's a pretty amazing news for stripe lovers like me. Stripes is adding tremendous beauty to the dresses and making them spectacular and eye-catching.
ANIMAL PRINTS ARE BACK
Another print that is always regarded as classic and smart and has always stayed in fashion is the animal print that majorly comprises of patterns resembling mainly to that of Cheetah, Zebra, Tiger, Giraffe and Lion's skin. The designers long ago tried bringing them to the mainstream fashion and this year, Sapphire has introduced them to its Lawn volume 1.
PALAZZO PANTS SUBSIST
Many a times since last few years we have seen emerging trends of cigarette pants, shalwars, bell-bottoms and trousers. Among them being currently in, Palazzo pants continue to stay in Fashion and we can see them being flaunted in some of the latest Lawn collections.
ALL-LENGTH SHIRTS SURVIVE
There was a time when all of a sudden floor-length shirts kicked in the fashion out casting all others. Then we saw shorter, above knee length shirts emerging and fighting their way in. Many of us struggled to alter our clothes in the new-defined length parameters. Now, it is noticed that whatever length you decide to wear, the dressing won't be considered out dated. Because literally, everything is rocking the fashion mania.
TASSELS AND FRINGES CONTINUE TO ADD BEAUTY
New trends not restrict themselves to clothing alone. Pakistan is also famous for its vast variety of laces world-wide. Last year we saw brands introducing feather laces and big floral motifs.
This year however fringe laces, tassels, pearls are slaying the fashion quintessence.