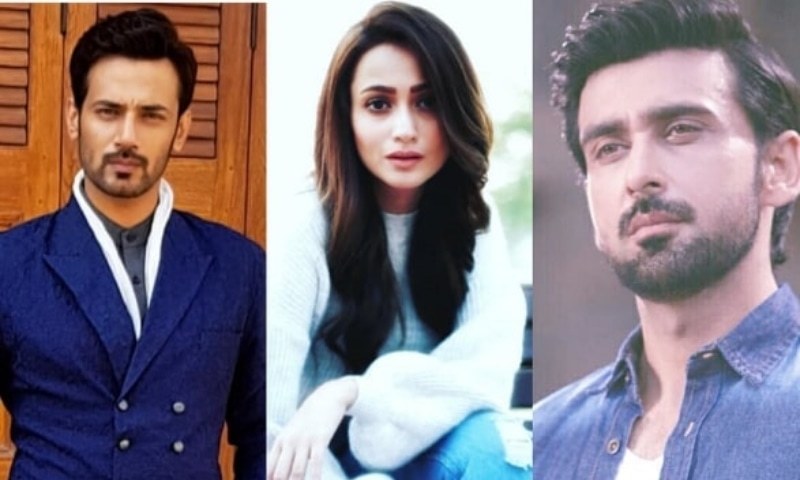 'This is the very first time I am working with Sami Khan and he is a wonderful actor' Zarnish revealed to HIP.

Having loved Zarnish Khan in Sun Yara, we have always made sure to follow whatever drama she was appearing in as her sincerity towards her work is actually quite impressive. So when we got to know that she was busy shooting for another play along with the very versatile Sami Khan and Zahid Ahmed we knew we had to get in touch with her to know more about the project which is being directed by Farooq Rind who gave us dramas like Pukaar, Baaghi and Besharram to name a few.
Titled Ishq Zahe Naseeb, the first thing we asked Zarnish was about her character to which she said,
'I am playing quite a different character as she is a strong headed girl who runs a business empire. She believes in herself more than anything in the world. Slightly snobbish, but only because of all the hardships she has faced in her life. Her life took a turn for the worst when her heart was broken however, she took on the world and become cynical towards people to protect herself and vowed never to fell in love and never to show her weakness ' .
Read : Zarnish Khan Wanted To Play Chammi From Aangan
So what is the play all about was our next question to which she replied ,
'The theme of the play is about two couples, and how their lives intertwine with drama, mishaps and love interests. Each character out of four has its own storyline. They all come from different backgrounds and want to cope up with their relationships and the struggle to keep up with their love interests. It is too soon to reveal the full plot, but soon you will hear more about it' .
With the drama also starring Zahid Ahmed besides Sami and Zarnish, she was all praise for her co stars which was wonderful to see as she said,
'I have worked with Zahid Ahmed in the past and he is absolutely wonderful to work with. However, in this project I had the pleasure to work with Sami Khan and things rolled out pretty well. At this point for me, the shoot is still at a very early stage so I didn't get the chance to meet the full team as yet. But I am sure they'll be friendly and professional too'.
But what is Sami in particular like to work with?
'This is the very first time I am working with Sami Khan. He is a wonderful actor to work with, and our chemistry instantly clicked on the set. I have to say that he is an amazing person inside out. We became friends in the first spell of the shoot, which has certainly made me comfortable as an actor and I hope that our chemistry is well received by the audience when the serial comes out'.
Well we hope so too . With the shooting underway the play has a brilliant cast and a director and we look forward to watching Zahid, Zarnish and Sami create magic on the small screen soon.