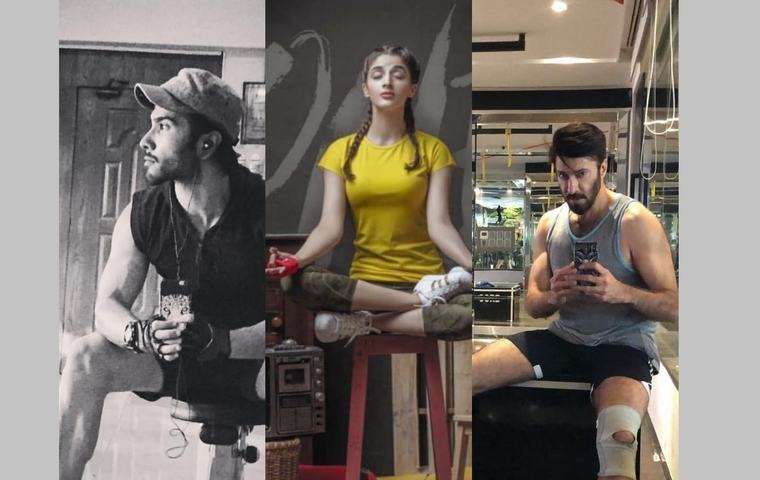 Staying fit and taking good care of your body has become mandatory in the current times when one can hardly take ...
Staying fit and taking good care of your body has become mandatory in the current times, when one can hardly take some time out from their busy routine, but when it comes to showbiz, the fitness pressure gets doubled up. With the rise of gyms and training institutes in Pakistan, many people especially women are now inclined towards joining them to guarantee their fitness levels.
In addition to this, there are some names in media industry that are popular for being fitness freaks. Let's have a look on who they are and how do they carry their gym looks.
1. Aijaz Aslam
Actor and designer, Aijaz is quite famously known among his peers for having a restricted diet, staying fit and working out. This picture of his is not only giving some serious fitness goals but also speaks for determination and swag.
2. Mehwish Hayat
Popular drama and film actress and also a singer, Mehwish keeps the extra fat burning by spirited exercises and regular gym visits. Whether it's about appearing on screen or going for workout, she leaves no stones unturned to emit major fashion vibes.
3. Sana Fakhar
This Pakistani big screen actress and fashion icon has developed her passion for staying fit and we are loving her dedication towards it. She was previously chubby but her high spirited persistence has done wonders and we appreciate the transformed Sana. She has also started a YouTube channel "Fitness With Sana And Shay". She looks spectacular without any tinge of doubt.
4. Feroze Khan
Previously a VJ, drama actor and model Feroze seems like a total fitness freak when it comes to viewing his Instagram profile. His commitment towards workout regimen is applaudable.
5. Mawra Hocane The younger Hocane sister is a staunch fitness geek and apart from major style goals, she also sends out workout vibes and positive energies regarding staying fit and healthy.
So what's your favourite gym look?