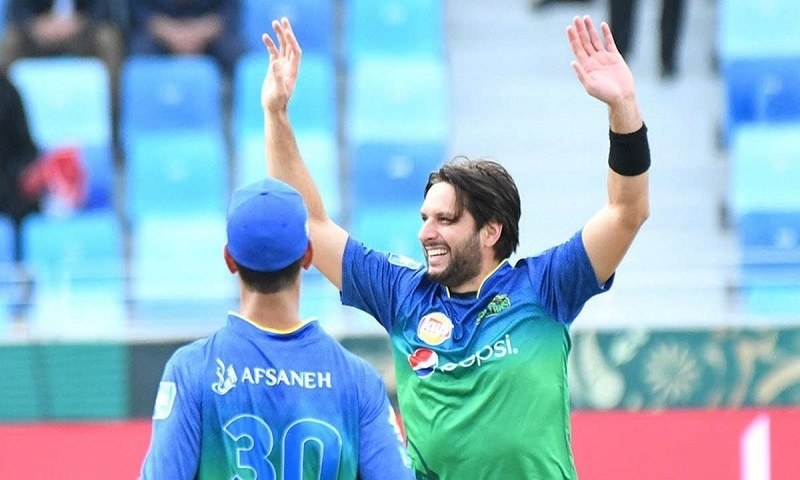 In 4th over of QG's chase Ahsan Ali and Shane Watson decided to target Mohammad Abbas. His natural inswing, meant that short fine leg was in business. 4 balls of the over went into that region, where Mohammad Irfan was fielding.
Yet, neither the fielder was changed by the captain nor did the bowler change his line. On the 4th ball, Ahsan Ali flicked it to short fine and took off for a run, Mohammad Irfan tried to run his partner out, but missed the stumps and then saw the ball trickle through the off side boundary. He wanted to scream at the fielder who failed back up his throw, then realized it was Afridi. Moments later, he let go of another boundary at square leg, falling down in installments instead of a dive.
In 7, PSL 4 games Shahid Afridi has scored 49 runs, with the highest score of 16. He has never looked like middling one. He has tried swinging from the hip, he has tried to nudge it around for a bit, both approaches haven't worked.
Pakistan Leg of PSL to Go Ahead Affirms Ehsan Mani
Yet among the local spinners, he remains the highest wicket taker. His steps are heavy, his body failing to respond, and his action laborious but with ball, the old magic is still there. Yesterday, Shane Watson and Ahsan Ali found that even at this stage of his career, Afridi retains the ability to bowl wicket taking deliveries.
This might be the very last wind for Afridi. A lot has been made of his impatient and at times inapt batting. But with the bat in his, the last 15 odd years have been sublime. In his peak, there were not many bowlers who could match his guile. Even today, when the pressure is on, Afridi can bowl a wicket taking ball. If cricket was just about bowling, Afridi could have seeped a few more years out of himself, but it is not unfortunately.