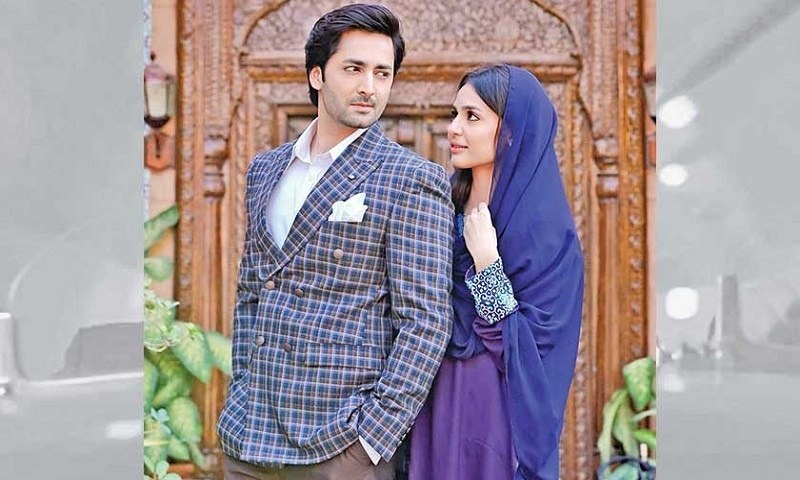 The teasers of the new play on Geo called Mera Rab Waris rolled out a couple of weeks back and they had us hooked. With the talented and young Madiha Imam and heartthrob Danish Taimoor as a couple, we knew it for certain that this drama was not going to disappoint us. Now, as Baba Jani ended on Thursday, Geo revealed the on-air date of the new serial. Mera Rab Waris will replace Baba Jani from 7th March every Thursday at 08:00 PM and we are eagerly waiting for the drama to go on-air.
Mera Rab Waris, is being directed by Asad Jabal, and it is a 7th Sky Entertainment production by Abdullah Kadwani and Asad Qureshi for Geo Entertainment. The story has been penned down by Jahanzeb Qamar and will star Abid Ali, Tanveer Jamal, Seemi Pasha, Fazila Qazi along with Danish Taimoor and Madiha Imam in pivotal roles.
Coming back to the Mera Rab Waris, here are five reasons we are excited for this new drama.
The Lead Characters
Madiha Imam is a young and versatile actress and she has impressed us time and again with her performances. Whether it was Dhaani or Baba Jani, Madiha gave impressive performances every time and nailed her characters. Danish Taimoor has also proved his mettle in different plays and we know he is going to prove it in this one too. Madiha and Danish are seen together on screen as a couple for the first time and they look good too, so we are looking forward to it.
A Different Storyline
After looking at the teasers, we can say that is not a typical love story. The promos revealed are brilliant and the story seems like a different, unpredictable one with many ups and downs. The teasers are intense and action packed and they make you sit up and notice what is happening.
A 7th Sky Entertainment Production
7th Sky Entertainment has produced some masterpieces that have captivated the attention of the audience. These include recent dramas Dil Kya Kare, Muhabbat Tumse Nafrat Hai, and Khaani. Looking at the plot and teasers, this one is also anticipated to join the pack. Mera Rab Waris looks like an interesting drama that leaves the viewers wanting more.
A Complete Package
Good storyline, amazingly talented actors, a soulful OST, beautiful sets, some mystery and ambiguity are elements that are needed for a drama to grab the attention of the viewers. Mera Rab Waris has all of them and more.
A Strong Female Character
In an earlier conversation with HIP Madiha had spoken about this play and her character as she had said, "I play, Ayesha Farhan, who is an MPhil student. My character runs the story which means Ayesha is the backbone of it. She is a very religious girl but as expected there are difficulties which come her way. How the society deals with this religious girl and how she tackles everything is what the drama is about."
We need to show strong women on screen and not those who cry buckets throughout the entire play and this one will be certainly different.
We're hoping that latest drama will turn out to be an interesting serial and will live up to our expectations. Can't wait to watch and review it for you
Madiha Imam and Danish Taimoor come together for "Mera Rab Waris"