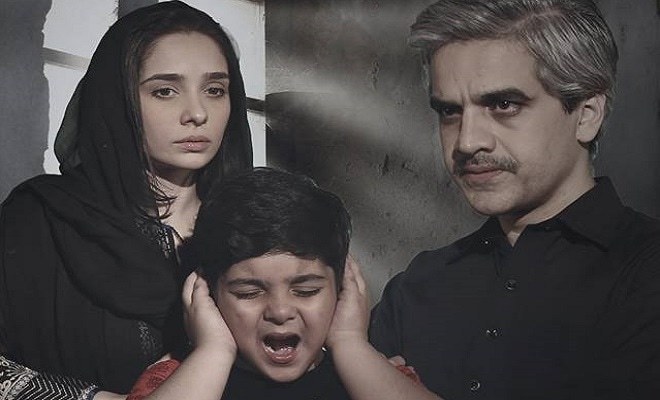 The film does an effective job of highlighting an often ignored social ill...

The problem of rampant domestic abuse is often brushed under the carpet when it comes to its depiction in mainstream ventures of Pakistan. Although sometimes intelligently portrayed in television serial like Kankar or films such as Inteha, physical violence at home by and large misses the radar of most local screenwriters and directors. Even when shown, its depiction is either insensitive or watered down due to airing policies of channels.
However, with digital content making new inroads, local directors and script-writers are experimenting with more bold themes and pushing the envelope in terms of highlighting social ills. One such initiative is the short film Khirki starring Juggun Kazim, Omair Rana and Shazain Ali. Available on a YouTube portal, this Fahad Nur directed production minces no words in making a bold statement on the issue.
Opening with a shot of the young child Rayan staring into the window while holding what appears to be homework, the film transitions to a harrowing depiction of how social pressures and in-built misogyny translate to ugly consequences at home. Rayan is being pushed by his father to be a doctor, with clear instructions on what achievements in school are expected of him. Rayan's mother (Juggun Kazim) is however more understanding. As the narrative progresses, the father (played by Omair Rana) becomes more physically aggressive towards the mother – and also the child.
Edited in a non-linear format, this short is open to interpretation. It succeeds in highlighting the damage abuse at home can wreck the mind of a young child and effectively sabotage the very dreams that the abusive parent may have envisioned.
Performance wise, Khirki is young star Shazain Ali's show all the way. He perfectly captures Rayan's innocence, and his reactions of horror at his mother's beatings or having not met a certain academic benchmark are spot on.
Juggun Kazim and Omair Rana also do well in their respective parts. Playing the character of an abused, frustrated wife, Kazim ensures the role does not go the sob-and-scream route. Her performance brings out the inner strength and inherent dignity of her character. However, we don't see many shades to Rana's character besides that of the hectoring father who is more often than not instigating some physical altercation at home. He suitably brings out his role's terrifying traits on screen.
Director Nur does a solid job in making Khirki an engaging viewing experience, ensuring that none of the performances go over the top. Even the violence is sensitively shot and is never gratuitous. The use of ambient lighting and occasional slow-motion shots by DOP Shahrukh Naveed enhances the impact of the screenplay. The script is natural without use of abusive language, and the film's smart editing, especially of the climax sequences, ensures that the viewer will be left thinking about it even after it ends.
All in all, Khirki provides a window to the society to witness the horrors of domestic violence in an average, middle class household. Its sensitive handling of the issue, along with praiseworthy performances by the cast, make it a short film that is worth a watch.