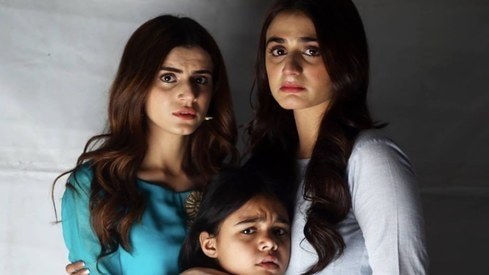 From the story plot and cast to the visuals and sound effects, the serial is just so overwhelming...

After Nazr-e-bad starring Sara Khan and Azfar Rehman, Bandish is another well received drama serial based on the same delicate issue of black magic which on airs every Monday on ARY Digital and keeps the audience on the edge of their seats the whole time through its engrossing twists and turns.
From the story plot, and cast, to the visuals and sound effects, the serial is just so overwhelming. One can't think of missing any of the episodes, yet it frightens the hell out of them.
The dual episode of 5th March starts when Sania calls Hamza and tells him that they have lost the taweez which was given by Azar (Hamza's father) and saved her life, but now when Hania needs it the most as she is battling for life, they can't find it. sensing the tension from Sania's words, Hamza ensures her that he'll try his best to do something for her.
Hamza goes to her sister (Fatima) and asks for her taweez but Majda (his mother) comes in and strictly warns him to not get into their matters, but he doesn't listen to her and goes out to see Hania. He goes to ICU room where Hania was between death and life and recites some Quranic verses for 30 mins, after which Hania comes to conscious, but Hamza gets fainted and admits into ICU.
Where Majda blames Madiha for everything that happens to his son and family, Madiha gets to know how her friend Farzana was deceiving her. Farzana tells everything herself when her son-in-law dies in a car accident on the very first night of the wedding and her daughter goes through the same battle of life as Hania. However, Madiha forgives Farzana as she says to Sania that her God has saved her from losing her faith.
On the other end, the mysterious magic voodoo doll used for the purpose of black magic given to Madiha by Sumbul in the last episode keeps Madiha on tenterhooks and she tries to get in touch with Azar but fails to do so. After hitting upon it for some time Madiha throws out the voodoo doll in some landfill site, away from her house but when she returns, she finds the same voodoo doll again in her bag which leaves her shocked.
Madiha seeks out for Azar and goes to the hospital because that is where Hamza's whole faimly was as Hamza was still in ICU. Madiha tries to meet Azar, but she fails once again and decides to wait outside the hospital the whole night while it was raining heavily.
Mani is my real-life and reel-life hero: Hira Mani on Bandish
After waiting for the whole night, she finally meets Azar and shows him the voodoo doll. Azar gets the contaminated intentions behind the voodoo doll and goes with Madiha to her place where they get to know that Aleena is missing. Sania tells them that she handed over Aleena to Madiha last night, but Madiha refuses and tells her that she was out for the whole night. While they search for Aleena, Sumbhul callls Madeeha and tells her that Azar can't compete with her and she needs to put the doll in the tomb told. After listening to the conversation, Azar asks Madiha to follow what Sumbul says in order to get Aleena back.
The episode ends with a mystery as Azar asks Sania and Hania to meet him outside their place and the promo for the next episode makes it even more intriguing as Azar and Sumbul comes in competition.
Bandish is a tale of faith and black magic. The difficulties of the family who is under the influence of black magic is perfectly portrayed but the most beautiful thing shown is that even after giving everything to human control, at the end of the day everything is in control of the deity. The way Madiha's faith and belief save her from the wrong doings is just so thought provoking.
We are waiting impatiently for the next episode full of thrill and stirring twists. Thumbs up to the team for handling such a delicate issue so incredibly.