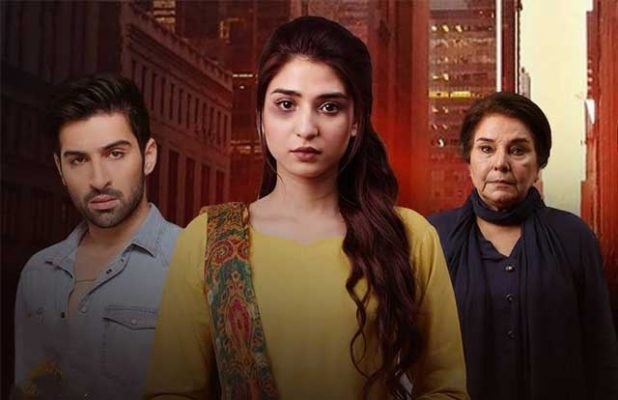 We are now looking forward to see justice being served to Ramsha and some good lessons to Ahmed and his family...
Kaisa Hai Naseeban is a play that has us all hooked since its first episode and every week we see the miseries and hardships that Mariam has to face. This week too we saw Mariam losing her child as a result of Ahmed's beating, but now Ahmed's family has also started getting what they deserve. The play has been directed brilliantly by Ahmed Bhatti and the acting of Ramsha Khan, Muneeb Butt and Uzma Gillani is totally in line with their characters.
So, last week we saw Ahmed beating Mariam from time to time after he brought her back to Malaysia, and Waheed stood up to defend her. Last night's double episode of Kaisa Hai Naseeban was quite eventful since we saw a lot of things happening in almost each character's life. Let us fill you in with all that took place in case you missed it.
The episode begins with Mariam requesting Waheed to allow her to go back to her place, but Waheed refuses and tells her that, when it will be the right time, he will himself take her back. Sana finds out Waheed and Mariam talking in the middle of the night and she starts doubting that they both have a relationship. She misbehaves with both of them which angers Waheed. In anger, Sana packs her bag and decides to leave Waheed's house. As soon as Sana tells Ahmed and her mother about her assumed relationship between Mariam and Waheed, Ahmed loses his cool. Meanwhile, Mariam gets unconscious and after she recovers, she convinces Waheed to drop her back to her place. In Pakistan, we are shown how Affan is able to save Mariam's parent's house from being sold.
Kaisa Hai Naseeban depicts how the society promotes marital abuse
Once Mariam reaches home and Ahmed sees her, Ahmed does what he has been doing since they got married. And, the result was that she loses her child and also the ability of becoming a mother ever again. Mariam should have known by now what Ahmed was capable of and the way he has hurt her in the past, she should have been careful about it now that she was also carrying another life within her.
Waheed finds out what Ahmed did with Mariam and he and the hospital management decide to file a case against Ahmed, but Mariam refuses to sign the case papers. Waheed, on the other hand, gives divorce to Sana, but Ahmed and his family are still not guilty about what they did. Ahmed leaves Malaysia hurriedly in fear of being caught and arrives at Mariam's parent's house. Mariam is also all set to return to Pakistan soon and let's see how things shape in the next episodes.
The episodes were quite happening and all the actors have nailed their characters. Ramsha Khan has really lived up to the character of Mariam. Muneeb Butt and Uzma Gillani have done a remarkable job as Ahmed and Musarrat respectively, as they bring across despicable characters without any effort.
Eighteen episodes down, with most of them dominated by showing emotional and physical abuse, we are now looking forward to see justice being served to Ramsha and some good lessons to Ahmed and his family.