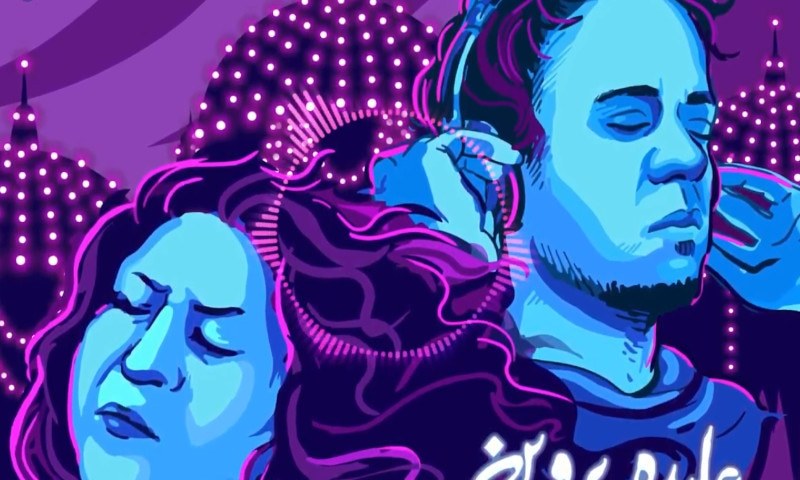 Abida Parveen and genre innovation go hand in hand. The world renowned Sufi singer has truly embraced the essence of the mystical philosophy by embracing new music forms and melding her distinctive style of music with popular western genres to spread her message of love and harmony to a wider audience.
Previously, Parveen made headlines courtesy her collaborations with pop-stars such as Ali Azmat and Atif Aslam. Her music has also served as inspiration for countless acts from subcontinent, one of the earliest being Junoon in the 90s.
In turn, it seems the Sufi songstress is just as inspired from these new-age musicians, who have the power to reach out to a younger audience. The Ghoom Charakhra singer has never shied away from innovating her compositions by using electronic arrangements in her music, and the latest journey Parveen has ventured on is by fusing her sufi kalam and gayeki (style of singing) with electronic dance music (EDM).
It all started in 2011, when Sweden based DJ Shahrukh Sheikh remixed Abida's Ghoom Charakhra, which went viral on YouTube. It also drew Abida's attention, who was very impressed with the manner in which Sheikh had remixed the track while retaining the original Sufi essence of her composition.
So pleased was the flag bearer of Sufi music that she decided to craft an entire album with the DJ, tracks from which will be releasing in the coming months. Expressing her admiration for Sheikh's work, she stated in an interview "I really appreciated DJ Shahrukh's remix because he succeeded in keeping the essence of the kalam intact. He knows his job really well. His experiment with my composition was a very bold step. I had never thought of my kalaam being treated so differently but I am glad he didn't let me down. I was truly impressed, I must say."
The maestra believes that by combining her kalam and compositions with EDM, she can produce truly transcendental music that can help spread her Sufi message around the world. "As an artist, I feel it's my responsibility to spread the message of peace and humanity to the masses. We have experimented officially to spread the same message of love, peace and humanity with fresh and different music."
The first single from the collaboration, titled Hori(Aj Piya) has just been released, and the result is truly a rich, uplifting music composition that captures the best of the Sufi and EDM genres. Abida's passionate, full throated singing perfectly complements the electronic dance beats and synthesized instruments. The hypnotic nature of the music creates the perfect ambience for her spiritual message to captivate the listener.
DJ Shahrukh Sheikh is clearly thrilled at this collaboration, given the response his earlier remix of Abida's track had received. "I had produced a bootleg of her song Ghoom Charakhra which went viral on YouTube. I have played it live in cities like Prague, Copenhagen, Amsterdam and of course Stockholm and it has driven the crowd wild every single time," he says, adding "I am so lucky to be able to do an official collaboration with Abida ji. I have waited patiently for this to happen and I know this is going to be worth the wait."
We hope you too are just as thrilled and will enjoy this very unique collaboration. Keep checking HIPinPakistan for more on this!