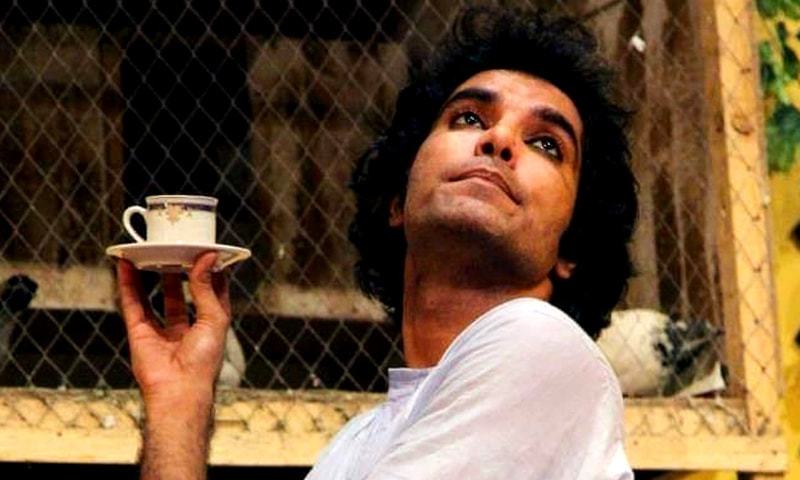 Yasir Hussain is back to theatre with Anwar Maqsood's 'Naach Na Jaanay' a prequel to 'Aangan Terha'.

Versatile actor Yasir Hussain is known for breathing life into characters. Although a noted film and TV actor was just 16 when he did his first theater play. He discovered theater early on in his life and hasn't looked back ever since. A man with an unmistakably distinct and quirky personality, his work too has gained popularity for his unconventionality and eccentricity. The much loved actor is back to theater after a long hiatus of seven years. Yasir couldn't have asked for a better comeback with Anwar Maqsood's 'Naach Na Jaanay' a prequel to 'Aangan Terha'.
Just a week away from its premier, Yasir took some time out to have candid chat with HIP:
HIP: You are finally making a comeback as to what you love doing the most 'Theater'. How does it feel to be back to your roots again?
Yasir Hussain: Yes! Indeed its a great feeling returning to theater after seven years. During this phase, I did Taleem-e-Balighan with Qavi khan and Behroze Sabzwari. I feel theater is the ultimate medium; you get instant response from the audience unlike TV or film.
HIP: Just one week left for Naach Na Janaay to premier. Are you a bundle of nerves or all is well? What are your feelings right now?
YH: Theater is always a bundle of nerves; everyone has stage fright because our brain is hardwired to be afraid of going in front of the crowd. No matter how good you have rehearsed, everything is perfectly placed, the moment you face a crowd of more than five hundred people, you tremble a bit and that's very natural.
HIP: You are pairing up with the legendary Anwar Sahab after seven years. Tell us about that moment when you got the offer and went on to sign the dotted line?
YH: This is my fifth play with Anwar Sahab after a successful string of Half Plate, Pawney 14 August, Sawa 14 August and Aagan Terha. Akbar is one of his personal favorite characters ,I feel any other actor could have done this role but it came as a huge surprise when AM told me that Naach Na Jaanay would be his last play for theater and he wanted me to play Akbar's character. During the rehearsals, he had the habit of writing additional lines for my character on a piece of paper and use to give me backstage, I was his blue eyed boy and such pampering was being done exclusively with me.
HIP: Do you feel fortunate enough to work with him again?
YH: Yes, off course! No question on that. I am extremely lucky to work with him again. He is a living legend of Pakistan when he speaks, crowds gather together to learn and get entertained as well.
HIP: What's the one great thing about Maqsood's script?
YH: Honestly there isn't any one specific factor, every part of the script speaks volumes for itself. Firstly the characterization, each character is different from the other. Secondly punch lines, the beauty of the script enhances every bit from it, I haven't read such lines in any other script. Thirdly the range of emotions, we are laughing in one scene and subsequently crying in the other. It's really an uphill task to combine all such factors in a comic script along with social and political satire and that's the magic of AM's script.
HIP: Do you feel the pressure of reprising the role of the iconic Saleem Nasir?
YH: I think no actor could reach Saleem Nasir; he was phenomenal in whatever he portrayed. I played Akbar seven years back when I did Aagan Terha and managed to fetch huge compliments that 'I did complete justice to it'. Saleem Sahab has set new benchmarks as Akbar; I feel everyone should watch Aagan Terha as the entire cast has outdone themselves by their remarkable acting skills within the boundaries of their character that is still relevant in today's time and age. It's a huge honor to play the iconic 'Akbar' for the second time.
HIP: How is this character relevant to you? What do you find most challenging/exciting about this role?
YH: The character is somehow relevant to me as Akbar was an artist and so am I. I don't relate to him personally but yes we actors are all sensitive and so was Akbar: he used to cry on little things. In 1970's when dance academies were banned by Zia-ul-Haq, all such people were forced to take up different jobs in order to earn a living. Akbar was previously a classical dancer, who was domestically helping Mehboob Ahmed and Jahan Ara Begum. Actors can relate to his character as each one of us have gone through a struggling phase at some point in our life.
HIP: What kind of preparation or research do you have to do in order to play Akbar? Please give us some insight into your process as an actor.
YH: I did my research on the character seven years back when I did Aagan Terha. Apart from the peculiarities and nuances of his character we did research on his other things i.e. clothing style, fabrics & colors etc. I have a profound memory from the play when I was wearing a 'Ferozi Kurta' and waiting backstage for my turn, suddenly I saw a lady weeping. Later on I came to know that she was Saleem Nasir's wife. This time around the research work took a back foot as the director Dawar Mehmood is quite a perfectionist. It certainly wasn't a cakewalk; Mehmood is very particular about each character and wanted the perfect fit. But once you get there, it's a great sense of achievement.
HIP: Did you learn classical dance for this one?
YH: Not really! There were a lot of acting rehearsals so I couldn't learn it properly. However, I did learn some classical postures which I perform at a given point of time. Besides, Wahab Shah has taken good care of the choreography.
HIP: Dawar Mehmood is one director with 100% track record. What do you look for from a director when rehearsing a role?
YH: Yes that's true! I have worked with Dawar in most of his plays, he is one of my favorite director. I believe a director should have that madness towards his work which Dawar is loaded with. He is one director who doesn't settle for anything less than what he has in mind. I hope he continues to work with great zeal towards his craft.
HIP: Would you like to share any funny incident which occurred during rehearsals?
YH: Theater rehearsals are not actually funny as compared to a film or TV shoot. They are very serious and we focus on work in order to get it right. We can't be funny as such, if we laugh at a particular point during rehearsals, chances of recalling that thing during the final take increases.
HIP: What's the last thing you do before you step out on stage / the curtain goes up?
YH: I recite Durood Sharif and remember my parents.
HIP: Without giving anything away, what's your favorite line of dialogue?
YH: Well there are many of my favorite dialogues but for that you have to come and watch Naach Na Jaanay at the Arts Council Karachi starting from March 14th – 31st, 2019.
HIP: Sajid Hassan urged people to buy tickets and watch the play as many people have the tendency to watch it for free. What are your thoughts on this?
YH: People purchase tickets otherwise theater shows wouldn't materialize. It would be wrong to rule out the entire section of people who support theater. There are people who have made it a regular practice to look out for free passes for a medium which is difficult and low paid; on the contrary why don't they ask for free tickets for cinema? Theater is perhaps the most vibrant of art forms; it brings together a number of artistic disciplines. It is facing its own set of challenges; I believe its high time people should support theater so that we could get to see it on a regular basis.
HIP: Theater practitioners find it difficult to rely on theater as a lucrative source of income that ends up becoming a hobby for professional artists. Your thoughts on this.
YH: We are quite unfortunate that theater in Pakistan has witnessed a gradual downfall thanks to the electronic media which has seized the intellectual abilities of the masses. Therefore a new actor has to wait for a longer time to fetch work if he isn't doing TV or films. I don't get the point why people don't value theater? They don't stop watching films even if they experience a bad one. Theater is the oldest form of entertainment and its revival depends upon the audience mindset, if people watch more and more theater, we would come up with more shows to the likes of Amanullah Khan & Nasir Chinyoti from Lahore who are doing theater and TV simultaneously.