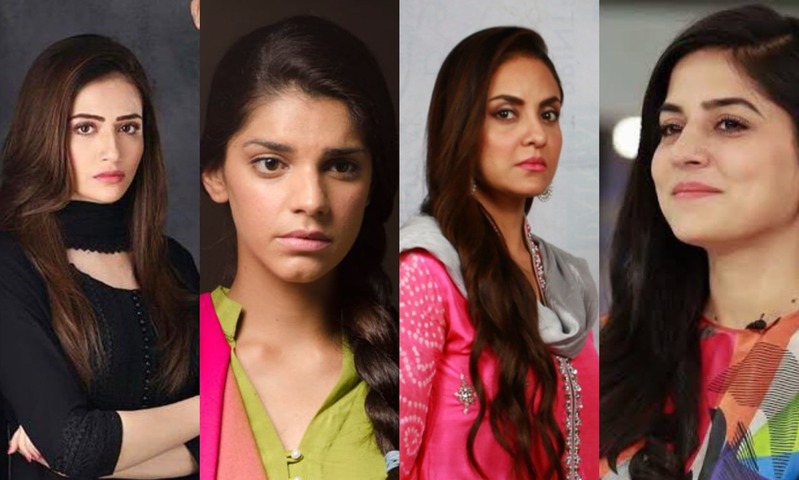 Every other day we get to hear that the Pakistani drama industry has nothing to show except for weak bechari women. We condemn domestic violence, child abuse, and such brutal issues in the serials but never consider the fact that these drama serials depict what truly goes on in society.
However, where we see women in victim roles, we also see women in strong characters in Pakistani dramas which shows the profound firmness and spirit.
'Kashaf' from Zindagi Gulzar Hai
The character of Kashaf in Zindagi Gulzar Hai, played by Sanam Saeed, is one of those characters which are hard to forget. The way it depicted the inner strength of a woman who achieved whatever she wanted from her life and married on her own terms and according to her own rationality and philosophy without taking any financial or economic status into account because that wasn't something she needed then.
We still admire Kashaf for the kind of girl she was.
'Zubia' from Yaqeen Ka Safar
A strong character of Zubia in Yaqeen Ka Safar got a loud laudation and recognition that she deserved. Even after going through the hardships like domestic violence and seeing the death of her mother because of her own father, she was determined to be upfront and spoke up whenever she found anything wrong.
Zubia was no doubt a fragile yet magnificent lady of the time.
'Sajida' from Udaari
How can we forget Sajida? Our Iron lady from Udaari who fought against child abuse for her own daughter and stood firm in the hardest of situations. The characters like Sajida are rare in real life but they do exist and that's what the serial showed.
Hats off to the courage she had.
'Sanam Baloch' in Dureshehwar
Dureshehwar was a character which changed the perspective of a strong woman and showed that only a woman who goes out and earns is not what defines a strong woman. Being adaptable and aware of the environment at the same time shows the strength of a character in a woman. Dureshehwar was a message for all the ladies who consider themselves weak just because they are housewives and not going out to earn. The strength of character that a woman possesses doesn't depend on her profession or role. She is respectful and strong in every character or role.
Sanam Baloch and Samina Peerzada nailed the characters!
'Rabail' in Koi Chand Rakh
Another lady with a heart of gold and a back of steel, Rabail. Her character shows that a woman knows how to uphold her dignity and stand by it. She never compromised on her rights while being respectful and obedient to her elders.
'Anmol' from Dil Lagi
Anmol was the perfect picture of a woman for those who think women are weak. An upfront lady, fully aware of her rights and vision of life. Mehwish Hayat beautifully portrayed the grace and elegance of a woman through her character.
Anmol had a strong message that we might missed on. She showed that as long as you are standing for the right and not harming any innocent, it's okay to be strong and upfront.
'Mishal' from Besharam
People think that an independent woman can not do well in her married life because of her ego and independency. Mishal in Besharam proved it a misconception and showed that being an independent woman is not a sign of narcissism and can not guarantee the failure in the married life.
'Tabbasum' from Zan Mureed
Who didn't admire Nadia Khan for her role of Tabbasum in Zan Mureed? She spoke up against domestic violence and made it clear that nothing can force a woman to compromise on her prestige and rights nor is she dependent on a man to fulfill her basic needs. Regardless of the social pressure, she decided to fly in the face of Taboos and stereotypes.
We applaud Tabbasum for the courage she had.
'Safeena' from Meri Guriya
Safeena is the character we need to have in our society. Meri Guriya was a story of women who went against the grain and fought for the right. Safeena told us to have the courage to speak for the right and to not consider whoever comes in between your journey, just take them as a hurdle and pass it.
Moreover, she told us that in this atrocious world, we women have to support and stand for each other to make it a better place for women.
'Khaani' from Khaani
A girl with intense emotions and courage made her way through the hearts of the audience. Khaani was a character known for the bravery and fortitude in her personality and actions. Instead of playing a victim role, Khaani came up and faced the hardships but never compromised on her rights.
'Maryam' from Beti
Maryam from Beti fought against gender discrimination in a way that is incredible. Her character had everything that a woman has. She had those intense emotions of attachment and love for which she compromised everything and married to a man from a lower class family but when it comes to the rights of her daughter, she stood up for her and proved herself a perfect woman in every role (daughter, wife, mother, and daughter-in-law)
We are proud of Maryam!
'Noori' from Ranjha Ranjha Kardi
Who hasn't yet fallen in love with Noori and Bhola from Ranjha Ranjha Kardi? The character of Noori played by Iqra Aziz depicts the true colors of love and boldness that a woman possesses. How she molds herself to make it easy for others and remains strong during the whole process. Dealing with a special man as a wife is not someone can expect from a sane person, but Noori changed the perception of a strong woman.
She depicts through her character that making a compromise is not a sign of weakness because it's the toughest thing to do and to make it easy for your own self and others is the challenge which proves you strong and courageous.
'Madiha' from Bandish
Marina Khan as Madiha in Bandish shows the hardships a woman has to face for her children as a single parent. The lady with courageous bones is determined to save her daughters from the things that she can't even control (black magic). She holds firm belief in her faith in God and fights with whatever comes in her way, representing the strength a woman holds.
We wish you all a happy women's day as no woman is less than the other, every woman has her own hurdles and journey to stand for.