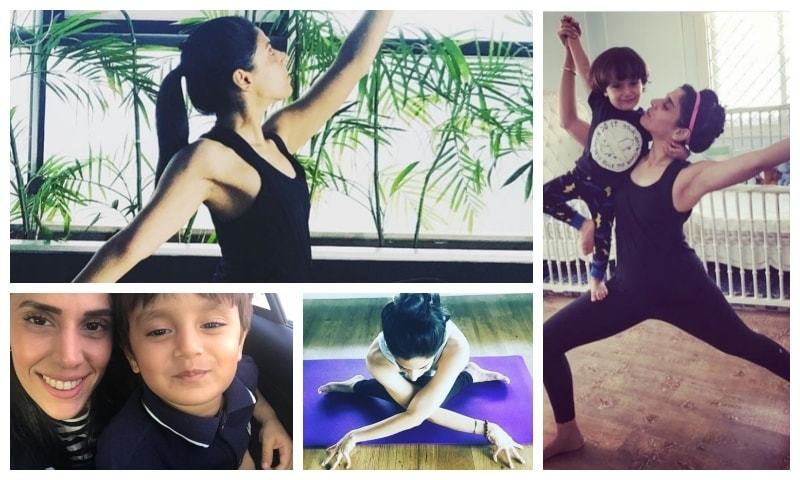 She speaks yoga, she walks yoga, she breathes yoga, she lives yoga, she is…Salina Taqi. Being a dedicated mother too, I found her tending to her son, and yet, she took out the time for HIP. When I had the pleasure to talk to her, everything she said, just resonated yoga. Yoga is magic, according to Salina, magic that worked wonders on her. Now, she waves the wand and simply helps others on their journey to self-discovery.
HIP: How did you start this journey? How did you know you had to take this path?
Salina: My yoga journey began 12 years ago in Singapore. I was out of a job and waiting for a transfer (that never happened). I was highly strung, and then, my mum recommended yoga. I started at Pure Yoga, Singapore. I remember feeling, for once. I'm a blocker by nature, but, joining yoga caused a lot of feelings to come out. I began to feel the distinction between mind, body, and soul. It was just such a beautiful connection. One class led to several classes a week. Before I knew it, I was studying to become a certified yoga instructor. There has been no looking back since. It started as a journey to discover oneself, and now I can't imagine myself as anything else. I'm a yoga trainer, and I love to serve and share my knowledge with everyone. The best part of my day is when someone tells me that I have changed their life. I correct them, saying, its yoga that has done the miracle, not me. Yoga is pure magic.
HIP: How did you battle the ups and downs that came along the way?
Salina: Life is a journey. There are ups and downs, and the best way to work with that is realising that when there is darkness, there will come light. When you are having a difficult time, that is when life is teaching you to be the best, to be the highest version of yourself and battle it out. Be as soul-aligned as possible, and let your answers come from there. That's how I deal with the ups and downs. I move forward very consciously. I like to meditate. I read the Quran Pak. I do a lot of inner work, and that is what guides me through life's ups and downs.
HIP: Do you follow or promote a specific diet?
Salina: I don't follow any particular diet. I really believe in simple foods and gut healing foods. I believe mental wellness comes from eating healthy, and that mental health is directly related to the gut. That's why I like eating simple foods like daal chawal, lots of fruits and vegetables, plant-based proteins, lots of nuts; basically foods, that are nutritionally dense. I don't think my body has to look a certain way, but, when I reach out to eat, it should be healthy and delicious; something that is going to lift my mood and spirit.
HIP: What is the most beautiful thing you experience every day, that you are forever grateful for?
Salina: I think, that would simply be life. If you wake up every day, realising that you have been given another day to live, I think that is the most beautiful thing. I'm very grateful for my son, as well. He is just three, but I feel I've learnt so much more from him. I've learnt kindness from him. I'm really thankful to have him in my life. Also, I'm very fortunate to be surrounded by people who just vibrate love!
HIP: You were part of the Ponds Miracle Woman. How was that experience?
Salina: it was amazing to be recognised for my hard work and passion. And what was even more exciting was that I was nominated by Sana Hashwani, who has been my idol since I have been twelve-years-old!
HIP: You have recently started on Salina Cosmetics. How did you move in that direction, from yoga (co-founder of Yoga X) to cosmetics?
Salina: Salina Cosmetics is a passion project. I strongly believe you have to be really conscious about what you put in your body, on your body and in your mind. Yoga gives you this consciousness. I started yoga on my journey of self and then became a trainer at Studio X. Then, when Jeanette (the founder of Studio X) was expanding, she asked me if I would like to become the partner in this new project, and I jumped right in. Now, we are both the founders of Yoga X, first hot yoga studio in Pakistan.
Salina Cosmetics started off with this Ayurverdic mask, which got unexpectedly popular! In turn, I started experimenting with a lot of products. The popularity gradually grew, and now I'm doing this organic formulation course, and then, I'll be this certified organic formulator! It started purely out of my own interest, and now, this will be an established business. I'm so grateful that it has taken off so well.
HIP: That's a lot of things you manage! How, with all that, do you manage being a mum?
Salina: Being a mum, I have to be very organised. I like to think, I'm a mom first. I like doing things for him. I start off with getting him ready for school. After he leaves, I do some meditation, have a good breakfast, and then, I start planning my day. I manage a house by myself as well, so I have to be extremely organised. However, I learnt, only recently, not to be too hard on my self. Sometimes things don't go as planned, and I let myself go with the flow.
HIP: Who is your inspiration? Who is your mentor?
Salina: My mother, she may come forth as rather strict, but she is a woman with values, and she has inculcated the same value system in me. I have also, forever been inspired by Oprah Winfrey. Her ideology is something that matches with mine.
My mentor is Jeanette Faruque, also my partner at Yoga X, CEO of Studio X. She is a woman with passion, and she taught me how to be equally passionate about what I do.
HIP: We've talked about mentors and inspirations. Now it's your turn to inspire. What advice would you give the youth of today on how to achieve success?
Salina: Don't be hard on yourself. Follow your heart and passion, and there is no way you will not be successful. Simply follow your passion, and let it lead you.
We wish Salina the best of luck for her future ventures, stay healthy, stay fit!