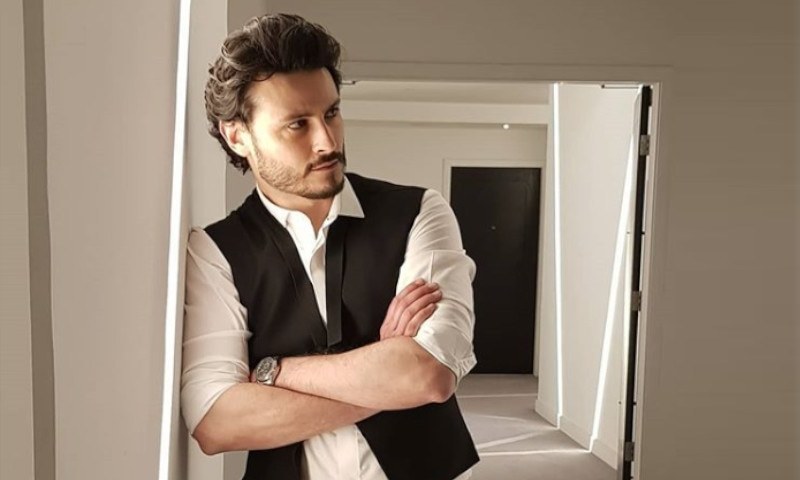 The Aun Zara actor talks exclusively to HIP about his experiences working on Saqib Malik's upcoming directorial debut
The past few months have been rather frenetic for Osman Khalid Butt. The actor has wrapped up his commitments for Saqib Malik's upcoming magnum opus Baaji, has choreographed two song-and-dance sequences and also shot a cameo for soon to go on air Alif. Oh,and he also has a major television serial, Surkh Chandni, in which he is paired opposite Sohai Ali Abro, that goes on air next month. The Balu Mahi star, who has carved a name for himself in tinseltown within a very short period of time, wants to perform at his fullest each and every moment he spends on the sets. Here are excerpts of HIP's exclusive conversation with the Baaghi star. Read on...
HIP: You have been up to quite a bit recently. Tell us about what exactly has been keeping you preoccupied?
OKB: "Yes, it's been a bit hectic, but work is always good. I shot the cameo a month a half ago, and then there was the drama Surkh Chandni and I was wrapping up Baaji as well. Besides this, I have also been involved in two choreography projects. One is for Heer Maan Ja which is Imran Kazmi's upcoming movie, and of course a song for Baaji as well. So I am the Director of Choreography for both projects."
HIP: Can you tell us about the numbers you have choreographed for the two movies?
OKB: "(The one for Baaji) is a contemporary track and we have given it a pretty cool vibe. I don't know how many details I can divulge at this moment but it is going to be a pretty kickass number! Actually both Heer Maan Ja and Baaji are going to be quite unique for the Pakistani screen. I am very grateful to Saqib - he trusted my vision. I mean I came up with quite a few zany ideas, to be perfectly honest, and he was on board with all of them. Same is true for IHA productions, it was the trust that Imran Raza Kazmi (one of Heer Maan Ja's producers) had. I went overboard with the set construction and wardrobe, I was inserting myself everywhere, and you know trying to be as much of a perfectionist as I possibly could. So the level of trust and the level of confidence they had in me was incredible and it motivated me to give my best."
HIP: You have been known to be rather selective about the work you choose to do. What exactly drove you towards Baaji?
OKB: "First and foremost, the reason is Saqib Malik. I have been a very ardent fan of his work since I saw the videos for Na Re Na and especially Khamaaj. He has the ability to weave a complete narrative in a four or five minute song. It is a visual treat and yet there is enough emotion and heart. (The project) resonated with me emotionally, and I have always wanted to work with him. We were discussing another script before he very rightfully decided to choose Baaji as the script for his debut film. And once the trailer or the teaser comes out everyone will understand why. So, when (Saqib) contacted me I immediately said yes, he had narrated me a one liner before when I was not part of the movie. My immediate reaction was that I would be in the cinema first day and first show because this is a theme that really resonates with me as well. And then It is an ensemble film, so there are great actors such as Ali Kazmi, Mohsin Abbas as well as Amna Ilyas who I share a lot of scenes with, and of course Meera. In a nutshell, It was Saqib, it was the cast and it was the theme and the concept, which I think is fantastic."
HIP: Everyone from Baaji's cast is super excited. Can you tell us what the film is about, its genre etc?
OKB: "The film in a nutshell, what I can reveal right now is about the downfall of Lollywood and the emergence of the new wave of Pakistani cinema, and a woman who is caught at the crossroads. It strikes a very fine balance between commercialism and art which is a balancing act not many people can pull off, but I think Saqib has pulled it off majestically. There is a very Pedro Almodovar-esque vibe to the film. So there's melodrama, dramatic tension, there is dark humor and satire. It is so unique for Pakistani cinema. Because we are used to watching films within a specific genre, but it is hard to pin Baaji to one specific genre. And that's what I think makes it very exciting."
HIP: Working on Baaji you also got to work with Meera. How did that experience turn out to be?
OKB: "It has been a dream of mine to work with Meera. I have many times expressed my desire publically about working with her. I believe our generation specifically has really forgotten that she is first and foremost a consummate actress. I remember I used to go to NAFDEC in Islamabad to watch her movies and she left a strong impression on me with her performance. I believe her charisma and on-screen presence is unmatched. She walks into a frame and it doesn't matter who is standing next to her, your eyes immediately move towards her - she doesn't even need to speak. She commands that sort of attention. With our generation, we have (mainly) seen her (through the prism of her) social media antics and scandals and those have been the talking points for us. This film will rightfully shift back the focus to her performance."
HIP: How about Amna Ilyas? Also tell us about the kind of energy the team shared on sets.
OKB: "I am a huge fan of Amna Ilyas since Zinda Bhaag. She is a beautiful human being, she is beautiful inside out. As far as teamwork goes, there is a certain magic and madness that goes into film that is a passion project. It's was not work - all of us treated it as our life. I can speak on behalf of the entire team that we put our heart and soul into the project, the team put their utter faith in it. And Saqib, who produced the film, directed it, worked on the screenplay too and filled so many shoes and put on so many hats and yet was able to pull the project trough beautifully."
HIP: The first look of Baaji was recently unveiled. How has the response been like?
OKB: "We have had a great response to the first look poster. (With that) the bar has been set pretty high as far as the response is concerned, I think it is going to go further upwards still. I feel when the teaser and the trailer released it is going to create a pandemonium."
HIP: You are also a writer, having penned the 2016 hit Janaan. Are you working on any script these days?
OKB: "Currently, I am writing something for myself, which I plan on directing myself. When I used to do theater in Islamabad I always used to write the scripts myself – I was acting, directing, producing, and writing. I really miss the process of writing. It is done in isolation and you are writing for yourself basically. The whole process is frustrating yet it's so beautiful because crafting characters and situations out of nothing - I really miss (doing) that. It's absolute creation. So yes, I am writing something. I don't know whether it's going to turn out to be a film or a miniseries, right now I am just writing to creatively fulfill myself."