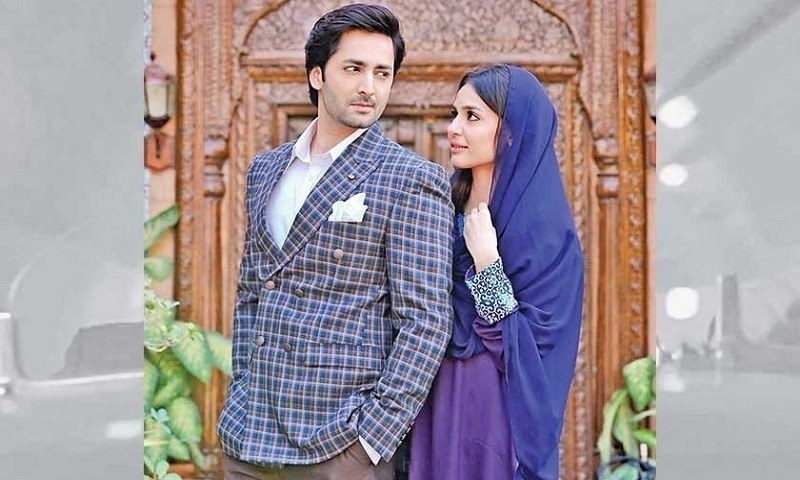 Madiha Imam breathes life in to the character who balances her religious beliefs and society opinions with grace.
Last week saw the beginning of a new drama called Mera Rab Waris which has two very good looking actors on board namely Madiha Imam and Danish Taimoor who along with being equally talented are keeping us glued to their latest project which besides being different has a very well written story which compels you to tune in every week.
Penned down by Jahanzeb Qamar and directed by Asad Jabal with production from Abdullah Kadwani and Asad Qureshi's 7th Sky Entertainment , the play began with a bang and even last night we were glad to see it not loose its charm as now with Ayesha played brilliantly by Madiha Imam having seen Harris ( Danish Taimoor) we loved the fact how despite falling for him she never let her belief get in the way and told her parents that whoever was interested in marrying her had to accept her the way she was.
Read: Mera Rab Waris Begins on a Positive Note
So quite a different character from what we have seen in the past , one of the main reason why Ayesha appeals to us is because despite covering herself from head to toe she is confident , educated and a firm believer in her values .
But what took place in the latest episode of Mera Rab Waris last night? Well read along to find out in case you missed it.
Well Harris and his family comes over to see Ayesha, but of course with him not knowing that she covers herself he is not at all pleased with his fathers (Abid Ali) choice and let's that be known. In the mean time with Ayesha having caught a glimpse of him she falls madly in love and wants the rishta to get done but knowing how naive she is we all know that this match is going to take some time.
One of our favourite scenes from last night happened to be, where Ayesha sees Harris as despite being in awe of him she quickly covers her face in slow motion though, but still remembers to cover herself up and that to us was very well shot as here was a girl who was deeply religious as well as falling in love for the first time and the emotions of both things happening at once was a sight which made us love the character even more.
Read: Madiha Imam and Danish Taimoor come together for "Mera Rab Waris"
With Faizi (Mirza Zain Baig) in love with Ayesha he is not pleased to see Harris in the house, but he can't do anything as he is her ex driver's son and she treats him like a little brother, but the respect he has for her as he never makes eye contact with Ayesha is also one of our favourite scenes till date.
So with great acting by all including Mirza Zain Baig who is doing great work these days, the story has made us fall in love with it and we cant wait to see Ayesha's journey from now onwards as we are sure it will test her religious belief from time to time but who will support her whole heartedly is what we look forward to watching every Thursday night at 8 pm only on Geo TV.