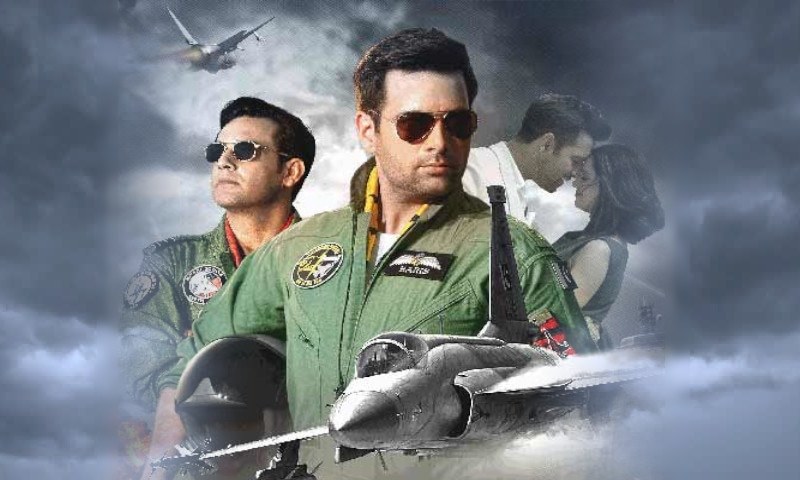 The movie Sherdil has all the necessary ingredients for commercial success and releases this coming Friday...
With every passing day, the anticipation and excitement for upcoming Air Force action-drama Sherdil seems to be rising. The film's release date i.e. March 22nd is just around the corner, and its promotions are in full swing with the movie's cast and production team having been pretty busy touring major universities and colleges around the country, promoting the film.
The movie has already been screened for the PAF chief and has the organization's stamp of approval. In more good news, Sherdil has been cleared by Punjab and Sindh's provincial censor boards. The movie is now set to be screened for the Central Board of Film Censors (CBFC) in Islamabad at some point today, and is anticipated to be green lit for release without much trouble.
Sherdil has a running time of 2 hours and 27 minutes, and advance booking of the movie has opened at major theaters around the country. ARY Films has been doing a decent job marketing the Armeena Khan-Meekal Zulfiqar starrer as an all-out commercial entertainer containing everything from aerial dogfight sequences, romantic songs and even a mehndi number, that has been recently released.
This increases the likelihood of the content resonating not only with younger males, who will be the key targeted demographic for the action filled content of the film, but also women and family audiences. It comes as little surprise that Sherdil has been awarded the lion share of shows relative to Laal Kabootar and Us which will be releasing alongside, although Laal Kabootar given its gritty content too will be seeing a wide-scale release.
Film exhibitors, currently facing a dearth of content, are upbeat about the film's prospects at the box office. Saad Sharif of Odeon Multiplex cinemas says "Patriotism is at an all-time high. Sherdil should be able to capitalize on that."
With the censorship process cleared and the film's songs and promos hitting all the right notes, we are hopeful that along with the other two films, it too sees a bumper opening at the box office.