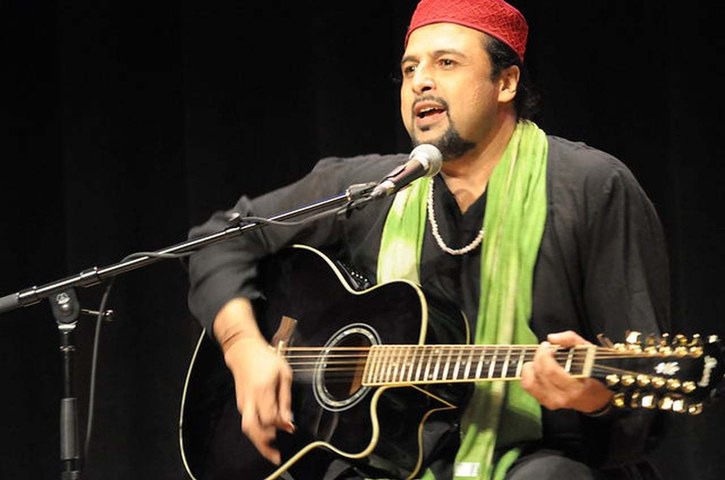 Salman Ahmed reacts to his disappointed fans on his latest Junoon performance at PSL closing ceremony...

The well-known band Junoon performed at the PSL closing ceremony on Sunday, 17th of March. Aima Baig, Abrar Ul Haq, and Fawad Khan also hit the stage putting up energetic performances in front of a crowd of more than 28,000 people.
Junoon performed their classic hits like 'Khudi' but despite showcasing a spectacular performance, the fans seemed to be quite disappointed. But why? Apparently, the singers were seen lip-synching on stage. Aima Baig missed a few notes here and there while lip-synching, but the Junoon fans were the most disappointed as the Lead guitarist Salman Ahmad was spotted on a raised dais pretending to be playing his guitar while the national anthem blared around him.
Fans were left wondering what was the point of an 'unplugged' performance. Salman Ahmad faced a lot of criticism due to this as people started tweeting him, asking why he put up a fake act but he was seen defending it and tweeted "Ppl who want to see live concerts at a Cricket final should move to Mars. Cuz the technology has not arrived to do both in Pakistan. Next year? Who knows".
He further tweeted "To avoid criticism, say nothing, do nothing, be nothing – Aristotle" When Salman was questioned about sham singing with a mic he said, "All the mics are LIVE bro, it's the instrumentation that requires sound mixing on a two-track stereo. There isn't enough time & money to set up a live multitrack mixed gig for a cricket match. Maybe in the future"
A fan also took the advantage of the situation by asking Salman Ahmad to bring in some new songs that will rule the charts to which he tweeted, "We're doing a world tour & recording new songs. Lots of Junoon to come"
Now that was a promising tweet for the fans and we are happy that Junoon is back in action and will be seen touring around the world representing Pakistan!