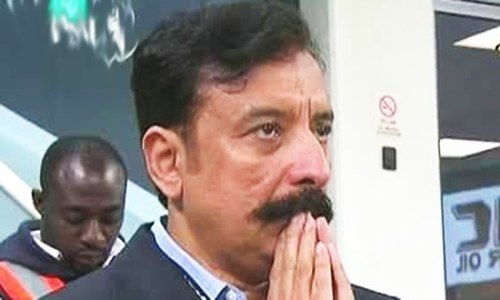 For the fourth consecutive year, Rana Fawad's team has finished bottom...

4th time lucky? Well not really.
Lahore Qalandars for the 4th consecutive season have finished bottom of the table. They signed the biggest T20 star on the planet, yet failed. Its is perhaps time for Rana Fawad to stop trusting Aqib Javed and his brother. A fresh approach perhaps is warranted.
Yes their captain got injured, AB couldn't come to play in Pakistan, Carlos Brathwaite went for national duty and Brendon Taylor also limped out holding his calf. But teams have to deal with injuries. Peshawar Zalmi won the tournament last season when DJ Bravo went awol. Quetta made a great start to the tournament even when Bravo was and missing and won the tournament with their marque signing Sunil Narine. It's an excuse that has exhausted its sell-by date. Moreover, teams have found players who are either retired or don't play for the national side anymore and built their teams around them. Quetta have Shane Watson, Islamabad snapped up Luke Ronchi, Karachi identified Colin Ingram, and Peshawar's favorite adopted a son, Darren Sammy. The two teams who lack such a presence have struggled. Lahore more so than Multan.
Read: Karachi Kings Fell Well Short Again
Perhaps, they need to be less vocal and more practical about how they go about things. GEO TV, which never let's go of an opportunity to go a beat either from the players, management or even Rana Fawad, can only harm a team which is already under pressure. Revealing that the team captain went against the management's clear plan would help no one and perhaps would be in the mind of Fakhar went the time of contract renewals come.
Lahore in chasing superstars have missed out on key performers like Ronchi was missed and in his place, Chris Lynn was signed. Lynn never played a single game for Lahore. This year, they could have opted for Dan Christian instead of Corey Anderson or Carlos Brathwaite, ensuring availability of a decent all-rounder. But they went with 2 big names and eventually had Shaheen Afridi batting as high as number 6. Those decisions come to haunt the Qalandars.
While their talent hunt programme is a thing to admire and it has shown results in the shape of Haris Rauf, the results on the field have been poor for too long. It is surely time for a change or they will become Delhi Daredevils (or now capitals) of PSL or worse.