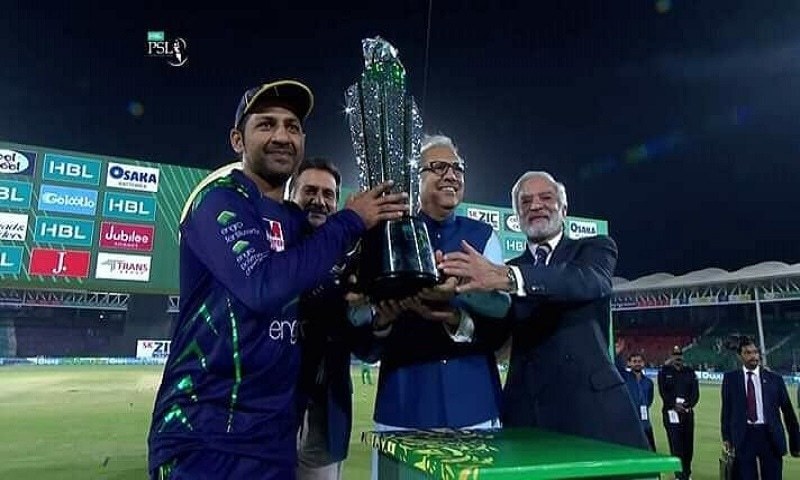 Cricket's calendar is so full, there is little 'free time' apart from the supremely lucrative Indian Premier League. Players, especially West Indian freelance work year-round to be ready for that tournament. DJ Bravo, skipped PSL and was fit enough to start the IPL. Its luck or climate that forces PCB's hand to organize the PSL, close to IPL. It's the way things are given the financial muscle of BCCI. So, when Sunil Narine, was ruled out for at the start of the tournament with a finger injury, most would have betted on him never appearing for Quetta this year. The status is unclear, but he might turn up for KKR's 1st game.
Narine, who Quetta's coach Moin Khan accused of chucking, was their main signing this year. They swapped him for two players a platinum pick. Imagine, your platinum pick not playing a game and your team goes on to win the competition. Even when, DJ Bravo was missing the team coped well. They unearthed a new star in Mohammad Hasnain. If handled carefully, he could well be a global star soon. Before his introduction, Ghulam Muddassar was doing well until that Colin Ingram innings. Fawad Ahmed proved to be a master stroke of a signing. Nawaz also provided a wicket taking option. While, Sohail Tanvir and DJ Bravo's experience was invaluable. Sarfraz moved away a little from the likes of Asad Shafiq and Anwar Ali. They were replaced by new club mates (Pakistan club), aforementioned Hasnain and Ahsan Ali.
Ahsan Ali, was perhaps the only hard hitting local uncapped batsman that impressed during the season, especially in the knock out games. Who would have bet on Ahmed Shehzad scoring at an average of 51 and strike rate of 126 before the start of the tournament? Umer Akmal also started well before a dip. Rile Rossouw and Shane Watson showed their class. Especially the Australian was in beast mode throughout the tournament.
Quetta Gladiators Steps into the Final as Favourites
But at the centre of it all was Sarfraz. He won the team a game with the bat, when required. The number he bats at usually, and the success of the top order meant he wasn't really ended a lot of the times. Yet his contribution as captain was tremendous. Quetta had many poor fielders. In the final, by my count they gave away extra 15 runs due to poor fielding. They overcame it with shrewd captaincy in terms of bowling changes and an in form top order.
It came at long last, but this must be a sweet victory for Quetta Gladiator and their owner, Nadeem Khan. He is one owner, who has been involved in Karachi's grass root cricket for ages. This was cricket's reward to him. They must rejoice!