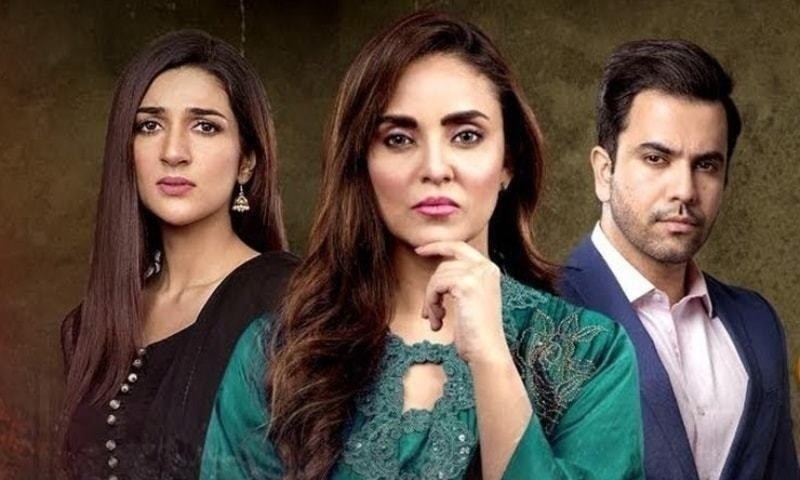 In our society one thing which sadly seems to be occurring in most of the households is harbouring a dominating personality who seems to think that they are above everyone else and whatever they say has to be done no matter what . Based on this thought entered a drama called Kamzarf which sees Nadia Khan as the over powering elder sister called Aima who cant see her siblings be happy with their respective spouses and always thinks of ways to make life difficult for all as seen once again in this weeks episode which saw Azhar (Junaid Khan) and Fouzia (Rabab Hashim) after a rocky beginning now madly in love but Aima being herself tells Fouzia to be careful or she herself will be responsible for the mishap in her life.
Quite a selfish thing to do on Aima's part, the drama has been written by Seema Munaf who pens stories which depict reality and uses dialogues which are easy to understand as well as relate to as despite being only 12 episodes old we already feel that Aima and her siblings are someone we know personally hence how will it really end for all is what keeps us going back to the drama every week.
Read: Kamzarf is all about narcissism; episode 6 and 7 review
But talking about the latest episode of Kamzarf, well we found it interesting at most points but a bit of a drag in some because where we were thrilled to see Azhar give Fouzia the respect she deserves right there the scene in the beginning where Asim (Ali Ansari) and family are seen celebrating their love we felt that it could have been cut short a bit to make the story move ahead which it eventually did as Aima is now not too keen to see Faria (Mariyam Nafees) and Asim tie the know anytime soon!
Now why the sudden change in Aima's part ? Well it is because when the family was celebrating Azhar's birthday at midnight all the noise woke her up and it was then that Faria gives it to Aima about how she cant see anyone happy and has a psychological disorder . Now where that made us laugh a bit it also means that Faria is now on Aima's black list so will she allow her to marry her brother is what we cant wait to see.
Talking about Aima in particular well she is now desperate to marry herself as one by one all her siblings are finding love and she doesn't want to be left alone so where we see her as a iron lady right there she is also a insecure woman who is sadly involved with the wrong man played by Alyy Khan who is only after her for her money but she cant see that and that makes us worry for her.
A beautiful story which sees the younger siblings as one, Kamzarf is a tale which does touch your heart and because it has such wonderful actors on board like Junaid Khan, Rabab Hashim , Nadia Khan and Ali Ansari to name a few we have a feeling the coming weeks will see many twists and turns in the plot especially when Aima will announce that she herself was getting married.
So still left a lot in the story don't forget to watch Kamzarf every Tuesday night at 8 pm only on Geo TV.