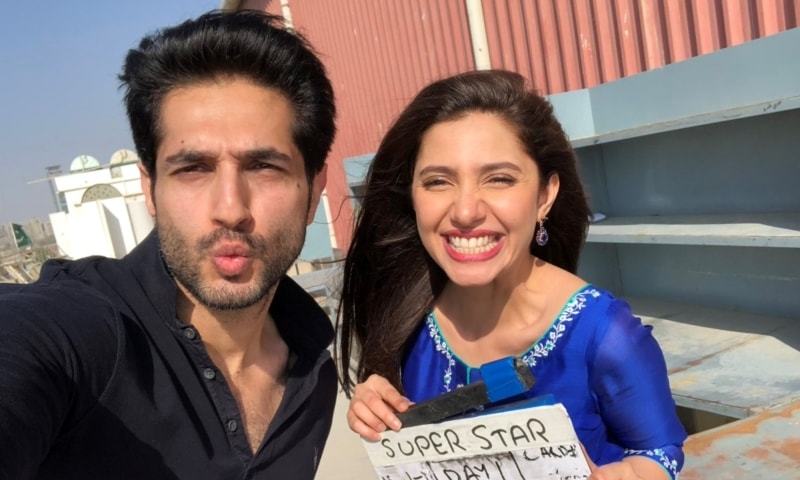 The Superstar duo revealed the news on their respective social media as well as shared their character's names.

Ever since we heard that Mahira Khan had signed on for a movie called Superstar which is penned down by musician Azaan Sami Khan and would see her opposite the handsome Bilal Ashraf we have been pretty excited for it hence when we saw the duo together recently in character mode we immediately knew that the much-awaited shooting had finally begun!
With Bilal sharing the news on his social media, he also introduced the names of their characters being Sameer and Noorie. Now even though one or two clicks have been released so far one thing which we simply loved was how well matched Mahira and Bilal looked and let's face it is not too often that you see two good looking around the same age people together.
Read : "My heart is in it," Mahira Khan on her upcoming film 'Superstar'
So what is the film all about ? Well in an earlier conversation with Instep Mahira had revealed,
'It's a romance in its essence, but it's a story about faith, failure, success and two people who meet each other at a strange time, basically wanting the same thing out of life, but how they want it is very different."
Calling it her passion project too, Superstar is directed by the extremely talented Ehteshamuddin who has given us hit plays like Yaqeen Ka Safar,Udaari, Aangan, and Sadqay Tumhare to name a few and will also see music being composed by Azaan himself.
With the shooting officially begun, we hope to find out more about Superstars schedule and update you on what all is planned for the film which we can't wait to see soon!