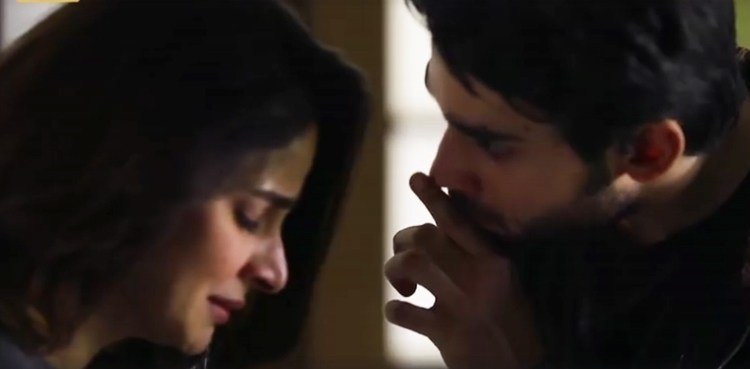 With Shayaan coming back to Pakistan, the story further unfolds as Mannat droops between truth and falsity
It was one interesting episode that kept the audience hooked till the end. The scenes were all very calculated and brilliantly performed by everybody who has been its part. Credit definitely goes to Badar Mehmood's direction and Zanjabeel Asim's script. The focus has certainly shifted towards Shayaan after his entry in the drama who is shown as torn between his wife and siblings. His reactions and behaviour show the normal human approach in such a muddled situation.
Since his return, he is being provided with one lie after the other by his brothers. On the other hand Wajih is doing his best to brainwash Haya against Mannat. Whole family is pressurizing Shayan to announce his final decision which should be a choice between his siblings or Mannat
Saba Qamar is dominantly holding the acting pillars of this show alongside with Bilal Abbas Khan, which grips the audiences to the screen. Both the actors act naturally on screen and the constant expression of hatred and Abjection for each other is marvelous.
I loved how the episode showed this gradual shift of Shayaan towards his wife despite all the fabricated lies being fed to him and how the circumstances being shaped against Mannat. Though Emmad Irfani had a very small role in the starting episodes, but now he is proving his mettle on-screen which is a treat for the fans.
The last scene of the episode however has been successful to rise curiosity in the audience when Wajih was again confessing about his sin in front of Mannat and Shehwaar listens to it while throwing what was in her hand in bewilderment and shock. Wajih was bemused to hear the shattering sound and the episode ends.
Cheekh always ends with this unsatisfying craving for more. Let's see what the next episode reveals now.