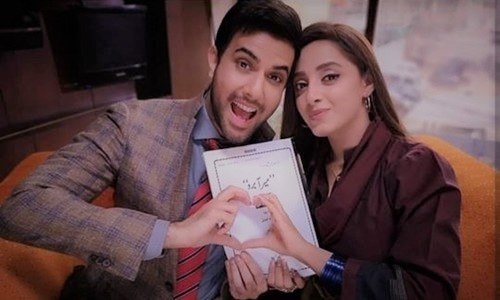 These days one has a lot to choose from as far as dramas are concerned as there are various channels to flick through before deciding what to watch. One play which caught our attention ever since we heard about it from its main lead Sanam Chaudhry happens to be Meer Abru which is all set to air soon and with its teasers coming out one by one it looks like an emotional saga, but minus the unnecessary crying.
Looking like mature content, the story itself is not new as it talks about trust issues, but hopefully since it is penned down by Farisa Afzal we hope that the treatment of it would be different and will stand out compared to other plays revolving around the same theme.
Read: Exclusive: Sanam Chaudhry and Noor Hassan Begin Shooting For Drama "MeerAabroo"
Starring Noor Hassan as well and the latest sensation Mirza Zain Baig, the teasers do reveal a love triangle between the trio as Sanam plays Abru who is in love with Noor's character called Meer and despite him also loving her apparently he does not trust her one bit.
Now why is that so is something we will have to wait and see but having seen the second teaser apparently Meer still faces a trust issue which makes Abru marry Mirza Zain Baig who loves her too and comes across as a nice man who will treat her nicely.
Which was what we thought until the team dropped the third teaser which sees Zain's character confessing his love to someone else and Abru overhears that!
So what will become of Meer and Abru is what we look forward to watching as the project is directed by Furqan Adam and he is known to put forth plays whose stories do make you want to see the drama till the very end and with such a talented cast on board we have high hopes from Meer Abru as it will see Sanam and Noor Hassan pair up on television for the very first time too.
So hoping for the story to be an interesting watch, we look forward to also reviewing Meer Abru for you once it airs on Hum TV!