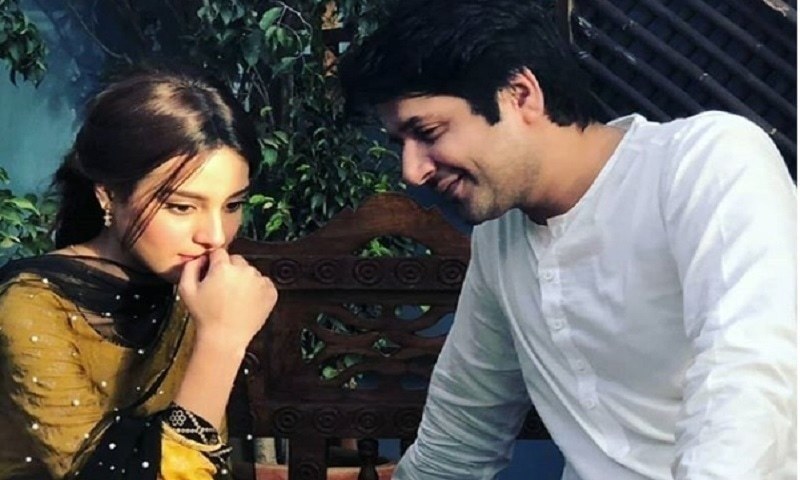 'The drama was not penned with the thought of revolving around marital rape' revealed the acclaimed writer to us...
One of our favorite pastimes is watching a drama every single night and the sign of a well-made play is when it gets the audiences involved so much so that each and every scene is discussed with friends and family members even long after the episode has finished. Currently one drama which has everyone talking this week happens to be Ranjha Ranjha Kardi which showed the mentally disturbed Bhola played by Imran Ashraf under the influence of heavy medication have consummated his marriage with Noorie (Iqra Aziz) without her consent and no one including his mother thought anything was wrong with it!
Now if you have been following the drama since it began you will know that Bhola is a man-child and does not have the ability to control his emotions as we have seen him attacking his own chachi with a bat when angry, or rub his face with Noorie's dupatta when out having gol gappas. With his chacha played by Kashif Mehmood having altered his medicines so he becomes angry and violent instead of being sweet, so he can be kept away it was that night where Bhola not able to control himself and further decides to take advantage of Noorie once and for all and sleep with her much to the horror of all those who saw the episode.
Read: "Ranjha Ranjha Kardi is a tale of love beyond sensibilities," Imran Ashraf
With Noorie not understanding what just happened we saw his mother Fahmida (Asma Abbas) enters the room in the morning frowning at what Bhola did with Noorie, while Bhola breaks out, crying out loud and apologizing, but Fahmida took no serious action against him instead she told Noorie that this act meant that he was normal and had sexual desires, and that generated a big debate of how the show was showing that marital rape is a normal thing.
Having read the comments on twitter so far one thing is clear that people wanted to see marital rape being discussed at length and not just be limited to a scene where Noorie was told that it was okay and saw the story move forward with the entrance of Sahir (Syed Jibran).
So with us also left wondering why such an acclaimed writer like Faiza Iftikhar did not dedicate a full episode to marital rape and how this act was wrong made us contact her and discuss basically how people were upset that such an important issue was brushed aside very casually to which she said,
'I have read all the comments and I am open to criticism , I welcome it as it shows that the audiences are now watching the plays with great interest and are talking about what is right and wrong and are not afraid to express it, but talking about Ranjha Ranjha Kardi in particular the drama was not penned with the thought of revolving around marital rape'.
Adding further Faiza said,
'When I want to discuss marital rape I will do so properly in a different drama where it will be tackled from the beginning till the end, but in this drama in particular if I would have inserted in length about marital rape, then the whole storyline would have gone off the track as we are showing Bhola as a mentally challenged man married to a normal girl who is given the wrong dosage for his condition by his uncle which does not allow him to control his desires as his senses are not working like a normal man's does'.
With Faiza quite happy with the fact that people were discussing the episode and she had contributed to it being done also made the writer reveal that sadly majority of the women in our society think like Bhola's mother where they feel that a man like him will, in fact, become better if married to a normal girl and ends up having children of his own without thinking of the fact that a person like this can be dangerous to his wife as well to his kids because he has no control over his emotions.
Talking about why she did not make Bhola's mother get angry at her son or side with Noorie that what happened to her was wrong, Faiza said,
'When I write a story I look at everything from the perspective of my characters, my own personal thoughts are not in it and Fahmida is someone who believes that marriage will cure her son so where initially you saw her enter the room with anger, right there within a second the mother in her took over, who saw that her mentally disturbed child was already crying over Noorie not being present in the room, and to further talk to him about last night knowing that he won't even understand what he did was not right she decides to let it go and explains to Noorie that this act meant that he was normal and she should not neglect her duties of a wife'.
With Faiza stressing on the fact that she was a writer whose job was to tell stories from the mindset of different types of people and put forth their view which then allows the audiences to decide what is correct and what is not.
Personally Faiza Iftikhar is not in favor of Marital Rape at all, and she does hope to write a drama on the topic in the near future as she feels that it needs to be addressed, but talking about Ranjha Ranjha Kardi she feels that this was not the type of play to explore the topic further hence the limited exposure of it in the recent episode.