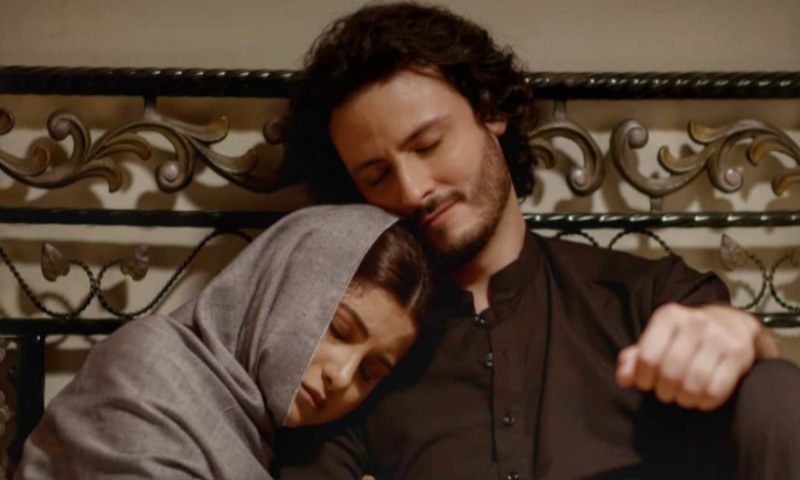 The Baaghi star will be starring opposite Sohai Ali Abro in the socially relevant television production...

Osman Khalid Butt is on a roll these days. Not only does the multi-talented actor have a major film project, Baaji lined up for a summer release, he is also starring in upcoming drama serial Surkh Chandni based on the ordeals of an acid attack victim. Paired against Sohai Ali Abro, Osman believes the drama breaks new ground in not only showcasing the ordeal of the victim, but also providing cloture and depicting the heroic characters that often are lost in the fog of harrowing headlines.
HIPinPakistan reached out to the actor to learn more about his experiences working with drama's cast, its director Shahid Shafaat and about why he believes it is important that awareness be raised about this heinous crime, which particularly targets the vulnerable in the society.
HIP: Surkh Chandni is ready to go on air. What makes this production a special one for you?
OKB: I think in my career this is the most emotionally invested I have ever been in a drama serial. It has to do with the way it's been written by Asma Nabeel – the narrative is very, very fast moving at the same time quite dramatic. There are quite a lot incredible plot devices that have been used to tell this very powerful and resonant story. I also had the opportunity of having to work with a consummate actress like Sohai Ali Abro who just dazzles every time she comes on screen -- whether it is the big screen or small screen. She has done a very intense character, and I think even for me this is possibly the most intense character I have done.
Read: Surkh Chandni Will Go on Air in April: Sana Shahnawaz Confirms
HIP: Tell us about the play's theme, its storyline, and why you chose to the script?
OKB: The story is about the very heinous crime of throwing acid which is something quite prevalent in our society and I think we are not doing enough to highlight it or make proper changes as far as remedying such an act of brutality is concerned. I feel this play will really shine a light on the trauma, not just the physical trauma but also the emotional one that victims go through.
HIP: You are also quite active about social issues on social media platforms. Do you see your acting career as a natural extension for your social activism, particularly in relations to women rights?
OKB: I believe that despite living in 2019, unfortunately patriarchy and internalized misogyny is so prevalent that we refuse to believe the woman. Our first instinct when something terrible happens to a woman whether that is harassment, sexual abuse or whether that is someone disfiguring her face permanently, we immediately bypass the empathy, the sympathy and the shared pain…and we immediately go to "what did she do"… that is, victim blaming. I feel that is so incredibly sad. You know the real life stories that inspired the story of Surkh Chandni were so harrowing that I feel that we all live in our bubbles. I feel that we become society that shows outrage but selective outrage. With the power we (artistes) have, we have to utilize it to talk about issues that are uncomfortable to talk about. This drama serial also tackles an age old problem that everything becomes a woman's fault, everything becomes an attack on her virtue and character, her just being a woman. I feel there are so many things that go unchecked, such as unauthorized sale of acid, I mean why is not there proper legislation that kind of forbid you to purchase…Why is so readily available? Why is it so easy to perpetuate this attack? Why is justice delayed? The age old adage justice delayed is justice denied and the woman who goes through this she is left not just with permanent physical scars but also emotional scars because there is such a lack of support, aside from the foundations that exist to care for such women.
HIP: Tell us about the character you are playing.
OKB: The writer Asma Nabeel has sketched a beautiful character in Amaan. He is someone who really takes a stand for this woman, Aida (played by Sohai Ali Abro). They are childhood sweethearts and the fact that she is disfigured and that her whole family is rallying against her does not come in between Amaan's absolute love and faith in her. He is quite an angry young man, and quite assertive -- he is someone who would take a stand and fight for the other's right. That is what really appealed to me -- he is not passive, he is not reacting, rather he is acting upon situations. I feel that is so important (to play such roles) because we don't see characters like this on television anymore. Some in our society tend to think that characters like this don't even exist. Which is sad, because people like this do exist, it's just that they are not highlighted because we invest too much of ourselves in negativity, in the drama and masala of things.
HIP: How was it like to work with director Shahid Shafaat?
OKB: I cannot praise Shahid Shafaat as a director enough, I am very impressed with him. He also has a theater background like myself, so it was pretty easy for me to connect with him and to talk about a scene. That is a process I saw everyone in this team doing, especially Sohai, because she would question and discuss and debate things. It was not just like we were handed the script and we passively shot the play. We actually talked about the ramifications of a particular scene on the scenes that follow. It felt almost like we were doing a theatrical production. As you know in drama and film, things are not shot in sequence, so the process is a bit more difficult for the actor. Even amidst all this madness, because of Shahid Shafat we were able to maintain that pulse and we were all In tune with characters were. Because when there are discussions between an actor and a director, the end result you see becomes a marriage between an actor's vision and the director's vision that is where a scene and a project really comes alive.
Read: HIP Exclusive: Osman Khalid Butt says "It has been my dream to work with Meera"
HIP: Pakistani dramas have recently come under criticism for glorifying misery. What would be your take on that? How is Surkh Chandni going to be different?
OKB: There are two sub genres to do this -- you can either dramatize misery or sensationalize it, so the person watching is like thank God my life is not as bad as what is being shown on screen. I feel that doesn't leave lasting impact. What makes Surkh Chandni unique is that I feel it offers catharsis -- a powerful cloture. It is a fight to change the mentalities and the mindsets, to make people aware that just because it is not happening in the periphery you surround yourself with that these issues do not exist.