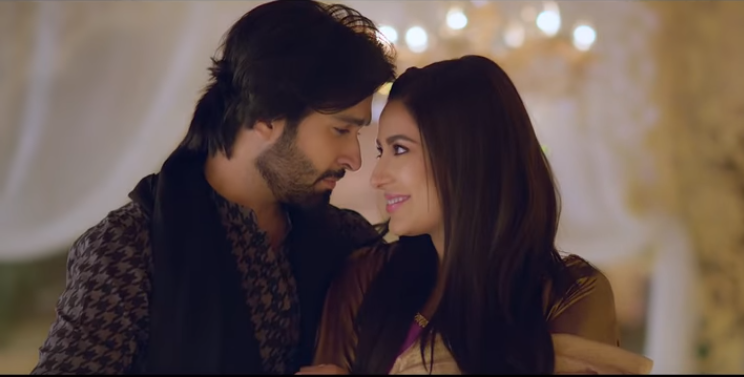 A fully eastern theme is portrayed beautifully in the teaser and the mesmerizing eastern attires add colours to Chhalawa
Wajahat Rauf has been teasing his fans for the longest time and has finally released the first teaser of his film 'Chhalawa'
Some famous faces of Pakistan Entertainment Industry like, Mehwish Hayat, Azfar Rehman, Zara Noor Abbas Siddiqi, Asad Siddiqui, Mehmood Aslam, Adnan Shah Tipu, Aashir Wajahat and Mohsin Ejaz conform their presence by making an appearance in the super lit teaser.
The teaser doesn't only show a light-hearted love story between Mehwish and Azfar, but also has some dramatic scenes in it. Dancing in vibrant colored attires, the teaser is full of energy and is going to make everyone dance to the pulsating song that plays in the background of this star-studded teaser.
Wajahat Rauf is going for the 'Wedding n Celebration genre', which he achieves to a degree. He has used the song to tell us that this boy is a Chhalawa who comes n goes out of Mehwish's life.
Perhaps one would have liked a few more dialogues so we know these character a little bit. He is going with a tried n tested formula, yet it looks good. Hope, he can find ways to break the formula and engage the audiences
Mehwish Hayat and Zara Noor Abbas are starring in Wajahat Rauf's third film
Shot at some breathtaking locations, a fully eastern theme is portrayed beautifully in the teaser and the mesmerizing eastern attires add all the necessary colors to it. The teaser doesn't reveal much but it definitely tells us that the sweet love story is going to have some twists as Azfar is seen leaving the wedding and Mehwish throws stuff of her table.
Azfar Rehman also shared the teaser on his Instagram account and it seems like he is as excited as we are!
Releasing on Eid-Ul-Fitr 2019, the film is definitely going to have strong competition at the box office as Yasir Nawaz's sequel 'Wrong No 2' and Bilal Lashari's 'Legend of Maula Jutt' are also going up on the big screens this Eid!