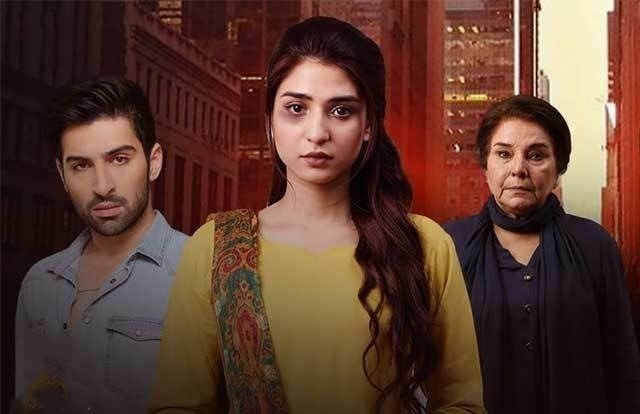 Ramsha has played a character which has grown in front of our eyes hence creating an emotional bond between her and us..

These days one thing which we are glad to see happening is watching dramas made on issues which matter like domestic abuse for example is sadly on the rise and in the past few years we feel this has increased quite rapidly . With Kaisa Hai Naseeban tackling this as well as how parents are too quick to get their daughters married off without doing proper research even if it involves family , the drama is a well made project which is keeping us hooked to it even now.
Written by Sameena Aijaz, initially we found Marium played brilliantly by Ramsha Khan too naive who was not able to stand up to the fierce Ahmad (Muneeb Butt) and his mother played by Uzma Gillani and the drama had too many slaps happening in each episode, something which we feel should have been reduced but catching up with it this week we were glad to see Maryam become more confident as well as financially independent.
Directed by Ahmad Bhatti, the double episodes were quite settled with nothing dramatic happening as such except for Farah (Anumta Qureshi) overhearing her Khala (Farah Shah) and Affan (Agha Mustafa) talking about how he was spending too much time with Maryam instead of his own wife (referring to Farah who was also pregnant).
Read: HIP Reviews Kaisa Hai Naseeban Episode 21-22: Ramsha Khan's Acting is Phenomenal
Now one thing which we really liked about this weeks episode was how nothing was blown out of proportion once Farah found out that Affan was in love with Maryam before he married her and instead of a loud music or women screaming and crying, the situation was handled with maturity and wrapped up within the double episode which we were glad to see instead of it being dragged for two -three more episodes.
With Maryam now independent, memories of what Ahmad did to her haunts her still and where she tells Farah to stay away from her as her happiness might get robbed too our heart did go out to Maryam as many women in her situation feel that their bad luck just might rub off on the other person too and that is something which disturbs us still.
Ahmad on the other hand, comes back to see Maryam and tells everyone that she was still his wife, but with her father (Waseem Abbas) standing beside her we hope Maryam does not shy away from leaving this man once and for all.
Talking about performances, we are glad to see Muneeb Butt try something new and playing Ahmad proves that he is indeed a versatile actor who can do wonders with any character he decides to take on. Ramsha Khan on the other hand is a talented actress whose dialogue delivery and facial expressions are always top notch and since she acts with such sincerity every role she plays becomes her identity and we cant help but admire this quality of hers every time.
So still going strong despite the fact that it is about to end soon, don't forget to watch Kaisa Hai Naseeban every Wednesday night at 8 pm only on ARY Digital.