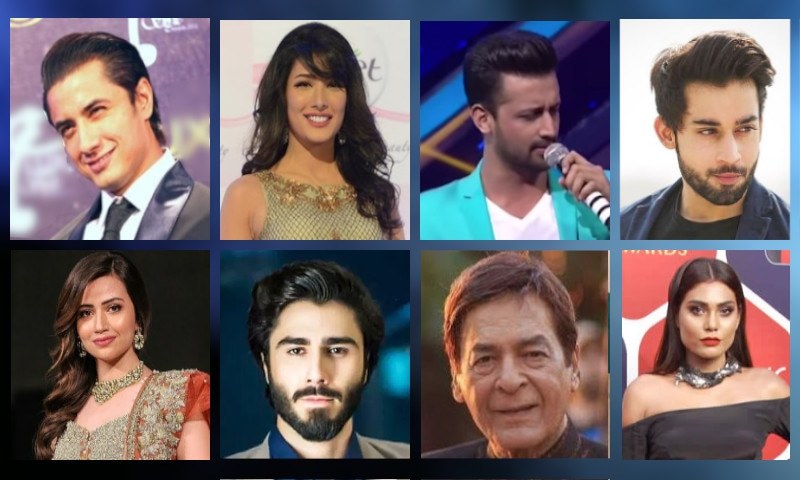 Lux Style Award nominations for 2019 are out include some expected names and some surprises...

The previous year was quite an extraordinary one for cinema, television and fashion in Pakistan. Quite a few television serials set television ratings on fire whereas the film industry too seemed to come into its own, with a number of films raking in impressive box office earnings. The fashion industry was not the one to be left behind; it continued to expand its footprint and worldwide appeal.
To celebrate these achievements, the Lux Style Awards, the biggest awards extravaganza in the country, unveiled their nominations for 24 different categories for film, television and fashion.
Film
The nominations for the five categories were dominated by Cake (with 7 nominees), Load Wedding (with 5), Jawani Phir Nahi Ani 2 (with 4) and Teefa in Trouble (with 3). Missing in action were films such as 7 Din Mohabbat In and Parchi.
Cake justifiably received the lion's share of nods. The Asim Abbasi helmed project was one of the most polished and critically applauded work from Pakistan's new age cinema and was well received by the public at large, too. Its nominations, which it won in practically all categories (including 2 each for best actor and best actress) were well deserved. The jury also hit the right notes for the 2 nominations scored by The Motorcycle Girl, in the best film and best actress category (for Sohai Ali Abro).
Like Cake and The Motorcycle Girl, Load Wedding was another film that attempted to strike the right balance between commercial and issue-based cinema, and Mehwish Hayat, who received a nomination in the best actress category for this film, did indeed do rather well playing a strong rustic character. However, she has certainly given more award-worthy performances in the past, in films such as Actor in Law and Punjab Nahi Jaungi.
Also, the best actor nomination for Ahmed Ali Butt in Jawani Phir Nahi Ani 2 might raise a few eyebrows too for the actor was part of an ensemble cast that featured Humayun Saeed, Fahad Mustafa and Vasay Chaudhry.
Interestingly, the sleeper hit of the year Parchi did not receive a single nomination. The film boasted of strong performances, especially from female lead Hareem Farooq, who has not received a nod till date despite having some critically well-received roles in films such as Dobara Phir Se to her credit. In Parchi, the star won much praise for her turn as the gangsta-with-the-heart-of-gold, which apparently escaped the attention of the LSA jury members. All of this did not sit well with Hareem's fans….
Others were also critical of Maya Ali and Mahira Khan being ignored for what were impressive performances in Teefa in Trouble and 7 Din Mohabbat In respectively.
Television
Television plays Khaani and Dar Si Jati Hai Sila received the highest number of jury nods with 6 nominations each. This was followed by Suno Chanda with 4 nominations. Bala and Dil Mom Ka Diya received 3 nominations each.
The jury nods for Best TV Play were in line with expectations, with top-rated shows Khaani, Suno Chanda, Dar Si Jati Hai Sila, Dil Mom Ka Diya and Aisi Hai Tanhai making it to the final list. The nominations for Best Director category were almost identical, with the addition of Qasim Ali Mureed for Aangan while Aisi Hai Tanhai did not make the cut.
Bilal Abbas scored the Best Actor nomination for popular serial Balaa and was joined in the category by Feroze Khan, Sami Khan, Qavi Khan and Nauman Ejaz. Bilal's twitter fans were overjoyed…
There were little surprises in the Best Actress category with Sana Javed, Iqra Aziz, Sonya Hussyn, Ushna Shah and Neelam Munir making it to the final list.
Film and television actor Mohsin Abbas Haider was rather miffed at Meri Guriya being dissed by the jury members. The television serial was noted for highlighting the harrowing and much prevalent issue of child abuse. He posted the following message on social media: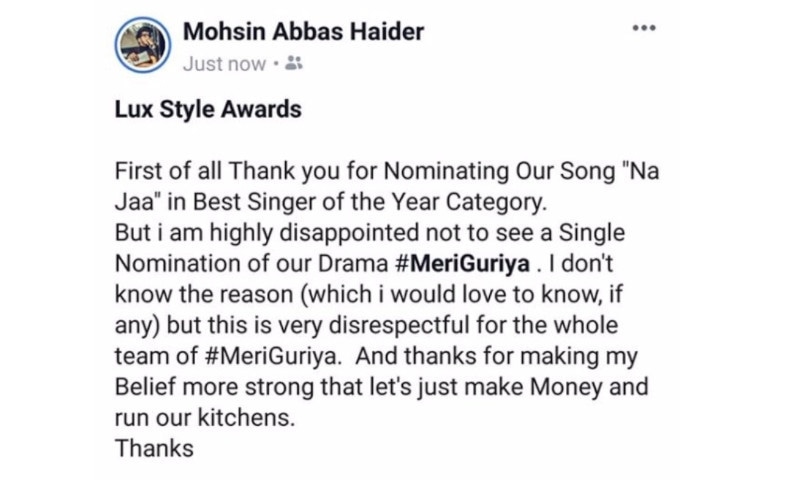 Fashion
The Best Male and Female models were dominated by the usual suspects. Rubab Ali, Sadaf Kanwal and Zara Abid were among the nominees for the Best Female model, whereas Hasnain Lehri, Shehzad Noor, Champ Imi and Aimal Khan comprised the male category.
Eman Suleiman, who will be debuting on the big screen this year in Sarmad Khoosat's Zindagi Tamasha, threw the awards into controversy when she posted a video message on Instagram, disowning her nomination for the Best Emerging Model. Eman stated that she did not want to be part of the same list that includes "an alleged harasser." While you are free to draw your own conclusion, buzz over the social media suggests that she was pointing to the Misha Shafi-Ali Zafar controversy.
The Best Designer category was split into four – for pret, luxury pret, menswear and bridal couture. Chapter 2, Elan, Generation, Sana Safinaz, and Zara Shajehan received nominations for the pret category, whereas Elan, Faraz Manan, Kamiar Rokni, Nida Azwer and Shehla Chatoor made the cut for their Bridal Couture.
This was a quick wrap up of the nominations. We look forward to the final ceremony, when the winners will be announced on July 7th!