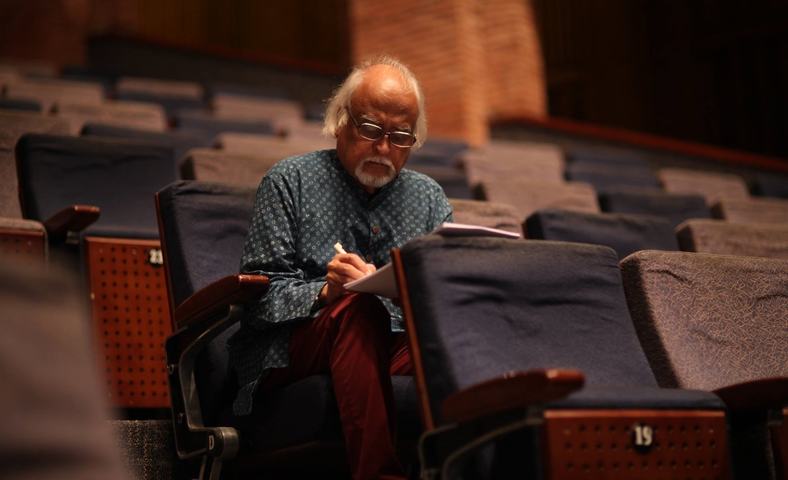 The Play Naya Pakistan, would revolve around the current situation of the country, as perceived by Anwar Maqsood...

The man of multiple talents; a painter, writer, actor and host who is primarily knows for his unmatchable sense of humor, Anwar Maqsood is brilliant in every field. When Anwar Maqsood first dabbled in theater in 2012, he gave it the brilliant Maqsood touch that it desperately needed. Since then, Maqsood has played a massive role in revamping the theater scene with his critically appraised plays like Pawnay 14 August, Kyun Nikala, and his ongoing play Naach Na Jaaney.
Read: I was Anwar Maqsood's First Choice to Play Akbar: Yasir Hussain
The writer announced that he is working on another play these days called Naya Pakistan which is meant to come to theater on 14 August this year. Anwar Maqsood talked about this play at a press conference at the Arts Council of Pakistan Karachi on Tuesday afternoon. He revealed that director Dawar Mehmood and president of the council Ahmad Shah requested him to work on a play whose revenue would go to a charitable cause: an endowment fund for financially challenged showbiz artists who are not on the screens anymore. Maqsood said that for the cause of this endowment fund, he has started working on this new project whose proceeds will go this fund.
Read: Here's what we know about Anwar Maqsood's play Kyun Nikala
The play, as the name gives away, would revolve around the current situation of the country, as perceived by Anwar Maqsood. As reported by Dawn, the story will revolve around a street vendor, who is trying to sell the old Pakistan in Naya Pakistan. Characters from the likes of Allama Iqbal would appear, trying to find a place in this new setup. The writer also talked about his objection with the word "Naya", urging that this line of thinking should be re-explored. After the phenomenal success of Naach Na Jaaney, the play dates have been extended to a few more weeks as the general public is lining up to see the play. There are also talks to take the play internationally to UAE, South Africa and UAE after the overwhelming response by the public. The director of Naach Na Jaaney would also be directing Naya Pakistan, which is expected to release on the Independence Day of Pakistan, 14th August.