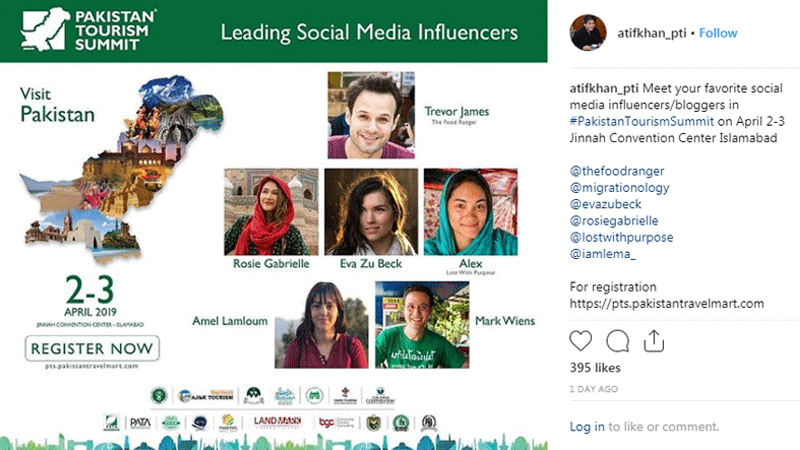 The local travel bloggers are sharing mixed feelings about the whole situation for being sidelined at tourism summit...
Several local travel bloggers went on social media protest against PTI's Atif Khan, minister of tourism in Pakistan, as only international travel bloggers were invited to the Pakistan Tourism Summit. The local travel bloggers seemed to be upset about the whole situation as they felt ignored.
Among the international travel bloggers included Trevor James, Mark Wiens, Eva Zu Beck, Rosie Gabrielle, Alex Reynolds and Amel Lamloum.
The summit held in Jinnah Convention Centre Islamabad, on 2nd and 3rd April.
Many local bloggers like Shariq Raza and Anam Hakeem (@girlwiththegreenpassport) expressed their dismay over not being a part of the summit. While others commented on Atif khan's post. Bilal khan, who is a local blogger and goes with the name @MYSTAPAKI on Instagram, expressed his feelings over the whole situation in a comment: 'Don't get me wrong over here I am happy to see so many big travel influencers from all over the world finally coming to Pakistan. It's great that we're finally having such a big event dedicated to promoting tourism in the country. However, I am deeply disappointed in your organization for not including local travel influencers on the panel. Many of us have been tirelessly working for years trying to get people to visit the country. It'd be nice for a change if you looked beyond your "Gora is best" lens and also looked towards the people who've been making grassroots changes on the ground."
Another local traveler Danish Khan (@imdanishkhan) said: 'Sir really appreciate your efforts for increasing tourism in Pakistan. Summits like these should be organized more often. However the most disappointing thing is that you can't even see one person from Pakistan in this list. In revival of tourism there is a big contribution of our very own travellers/ bloggers/ influencers/content creators and due to their social media presence foreigners got to know this side of Pakistan. If you on Government level can't support local talent then who'll? I hope you and your team looks out for locals as well while organizing next tourism summit.
Areesha Khan (@littlekhanswanderlust) stated: "It was disappointing to see that our leading local social media/travel influencers and bloggers weren't in the list, since after all it IS PAKISTAN Tourism Summit. Having a well-balanced team of all these talented foreign and local influencers would've been a better approach for such an event. Moreover, it would've given the local influencers a platform to share their experiences and be recognised, while also fulfilling the purpose of the summit.
Like them, many other local bloggers are sharing mixed feelings about the whole situation. They all welcome the international bloggers sharing the bigger and better side of Pakistan to the world, but they believe that local travelers should've also been invited to the summit as they made every possible effort to promote tourism and influence international travelers to visit Pakistan.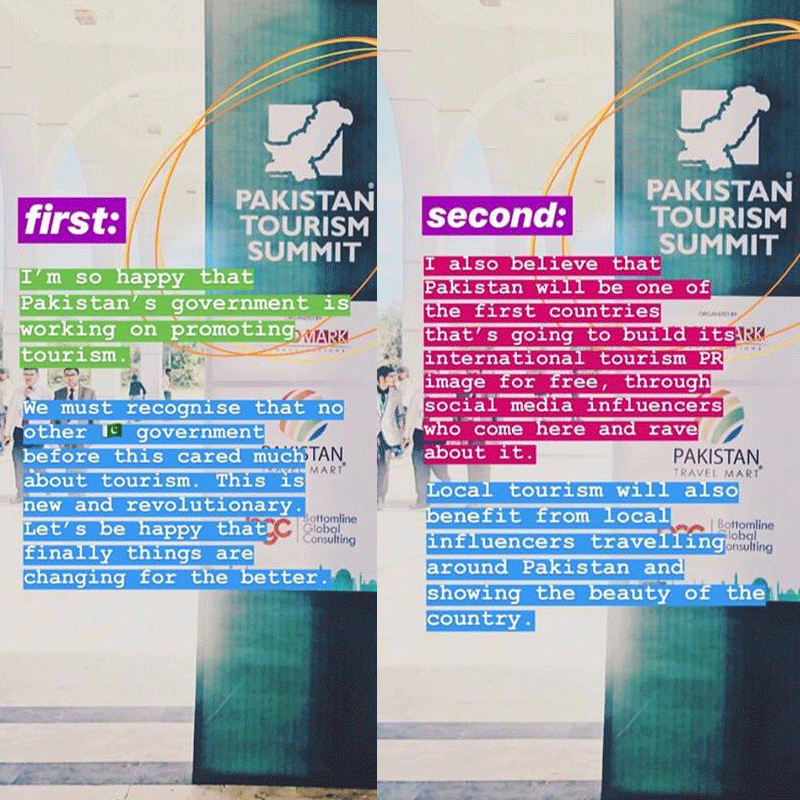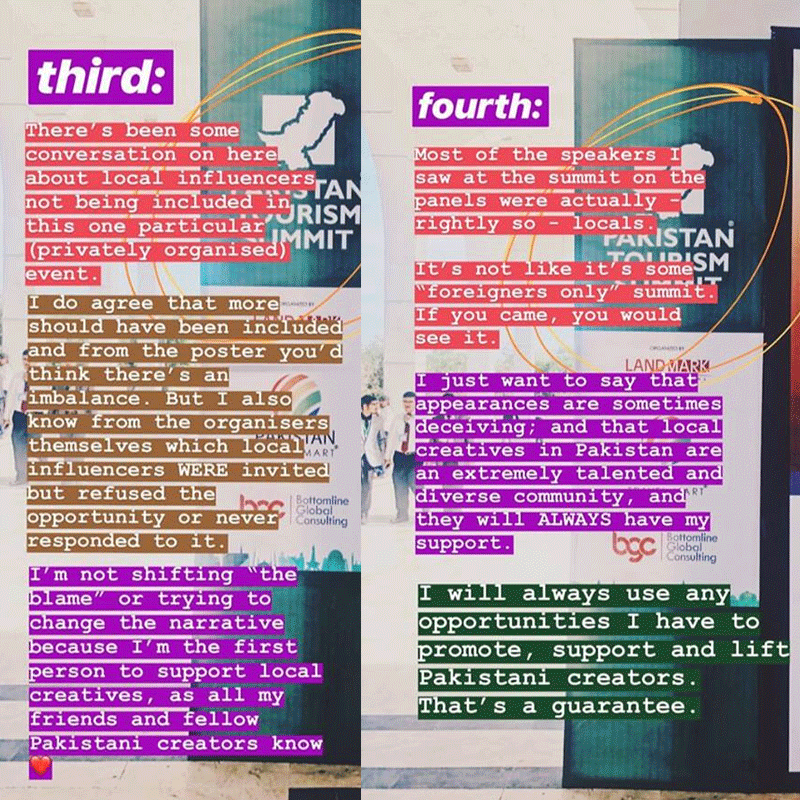 Foreign travel bloggers also expressed their concern through their Intagram stories. Eva Zubeck (@evazubeck) said: 'There's been some conversation about local influencers not being included in this event. I do agree that more should have been included." She also mentioned in one of her insta story that 'it wasn't just foreigners only sumit, some of the speakers were local too'. Alex (@lostwithpurpose) posted on her instagram story: 'It's really concerning to me that in a country of 200 million people not a single local travel influencer is being featured in this summit. I humbly request that Atif Khan and others stat giving local talent the support they deserve. There is no one better suited to create content that communicates the wonders of Pakistan than its own photographers, vloggers, bloggers."
PTI's minister Atif Khan is being questioned by numerous locals to explain why foreign travelers were prioritized for Pakistan Tourism Sumit over local travelers. Is it appropriate to not involve the point of view of the domestic travelers?