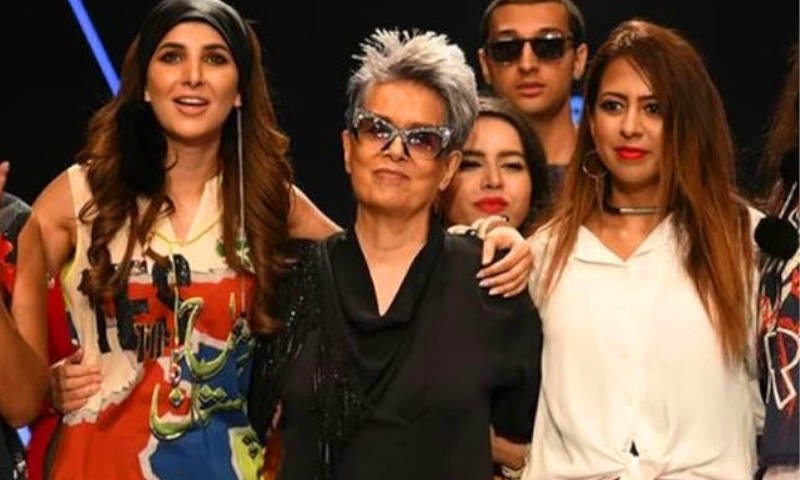 Fires a series of tweets stressing transparency in selection process and the need to reward talent on merit...

Maheen Khan is Pakistan's premiere style doyen and one whose sincerity and commitment to the fashion industry have never been under doubt. The Gulabo famed designer has now become the latest luminary from the world of glitz and glamor to voice her disapproval at the Lux Style Awards nominations for 2019.
Pakistan's Premiere Designer Joins the Awards Controversy Fray…
Just last week, a number of Pakistani writers and artists had voiced their displeasure at the nominees. Echoing their sentiments, Maheen Khan fired a series of tweets, expressing her concerns in specific about the criteria used for nominating fashion houses and designers for the awards' nine fashion categories.
"About the controversy surrounding Lux Style Awards. I have never understood and never will, what the benchmarks are for nominations. My personal concern is about the fashion category, a subject I know well, be it bridal, couture, Pret, models, or photography," she tweeted, expressing her strong reservations at the qualifying criteria to make it to the coveted list of nominees.
Expresses concern at popular brand-bias…
Maheen then went on to say what many have been saying in private – that the awards tend to favor the established, big-name brands with multiple outlets. "I cannot speak across the board but certainly in most cases the criteria 4 (sic) Fashion seems to be those houses who have multiple stores, for models and photographers those who r already well known and popular. I would like to see the committee look behind the familiar curtain."
She stressed that she continued to believe that LSAs were a worthy platform, however, commercial success should not be a criterion for making it to the nominee's list and that nominations should be purely on merit. "..at the talent that is already there, but unrewarded. Credence should be given 4 (sic) talent whether they are commercially successful or not. Let it be known I hv (sic) always supported LSA always will as it is a valuable platform. Please make LSA worthy of a standard that we can all look up to."
Stresses Selection Process Transparency….
In her final tweet on the matter, Maheen said that she would like to see some transparency in the selection process. "Please make LSA worthy of a standard that we can all look up to. I would also appreciate some transparency in the process. A list of the Jurors and judges and their credentials maybe?"
Celebrities and journalists tweet support
Many prominent celebrities and journalists voiced their agreement with the designer's sentiments. Nadia Jamil tweeted…..
Fifi Haroon meanwhile put in her two cents….
That one of the country's most well regarded designer is voicing her concern at the awards selection process should perhaps serve as a wake-up call for the Lux Style Awards jury. While concerns and controversies over nominations have been part of the awards since their inception, the 2019 edition marks the first instance of A-list designers and celebrities actively voicing their objections over the manner in which the final nominees are chosen.
HIP in Pakistan will continue to update you on the latest regarding the LSAs! Stay tuned.