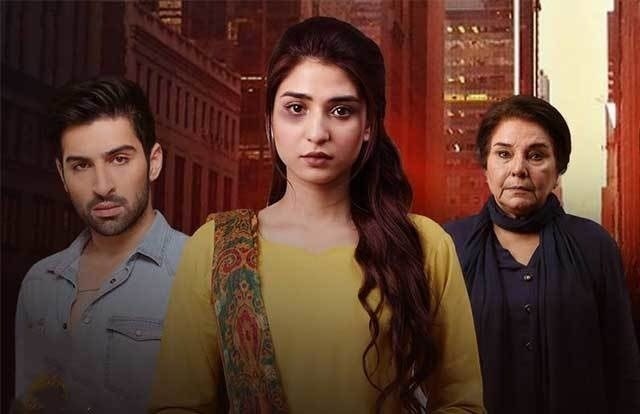 Ramsha Khan and Muneeb Butt starrer Kaisa Hai Naseeban finally came to an end this week with so many lessons...

Ramsha Khan and Muneeb Butt starrer Kaisa Hai Naseeban finally came to an end this week. The ending though had left us all teary-eyed and feeling miserable for Ahmed but it was very strong and powerful. It gave the audiences a very strong lesson of as you sow, so shall you reap and made us all strongly convinced with the power of Karma and justice administered by Allah-the Almighty. Each and every episode of the play was well-scripted by Samina Aijaz and well-executed by Ahmed Bhatti and the last episode aced them all.
Maryam won her divorce case in court and Ahmed was ordered to sign on Khhula papers along with 3-year imprisonment and a hefty penalty, but he tried to pay no heed to court's orders and ran away, only to come across with a tragic accident which led to complete damage of his spinal cord, making him bed-ridden for the rest of his life. The best highlight of the episode was when Maryam slapped Ahmed in the court room in front of everyone. It was such a satisfying sight to see considering the trauma and conditions she has been through back in Malaysia and how she has finally come out of it. However Maryam did forgive Ahmad and decided not to stay with him when he sought an apology.
We actually loved the character Ramsha Khan played throughout the drama, the way she portrayed her tears, strength, misfortune, mistreatment, and then finally her unnerving strength and courage, not only this but keeping a control on all over her composure with dialogues and expressions was something worth gripping the audience's attention and was outstanding.
It was very heart breaking yet satisfying to see Ahmed's condition and his family's financial situation, how miserable their life did become after Ahmed's accident. Muneeb Butt has a good grip when it comes to negative roles and he managed to do it well, his dialogue delivery and expressions can not go unnoticed.
Other actors such as Waseem Abbas as Jamal and Agha Mustafa as Affan played their roles well. Veteran Uzma Gilani like always aced her character, no one could have essayed Musarrat Aapa with such intensity other than the powerhouse performer.
All in all, it was a great and heartening play bringing to light some of the harsh realities of life that girls married off in haste without thorough background check on their in-laws have to go through. It also spread awareness on marital abuse and how a girl can come out of the vicious cycle if she has her parent's back. Lastly, the most important lesson that the drama imparted was that domestic abuse should be nipped in the bud because once it starts, there is no end to it. Hats off to the entire team for putting in their efforts and weaving such an impactful play. We are surely going to miss this one.