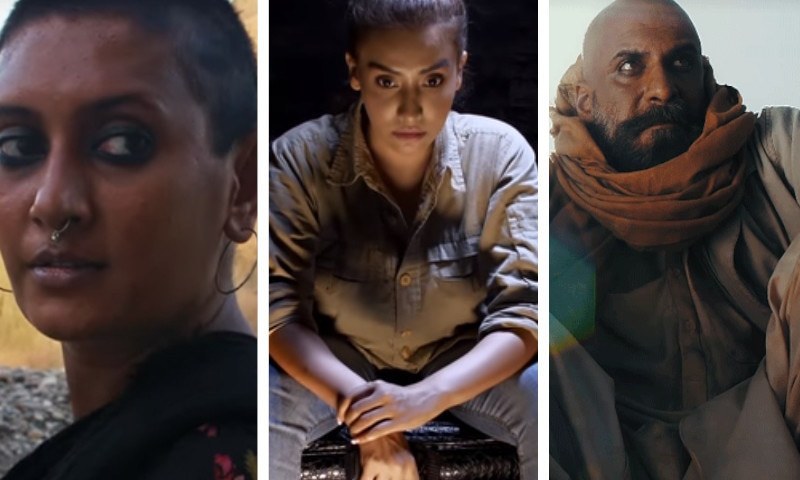 Shamoon Abbasi directed project promises to take its audience to a place where they have never ventured before...
When it comes to the crime thriller genre, Pakistani cinema has seen some reasonable successes in recent years with films such as Jalaibee and Laal Kabootar. With his upcoming venture Durj director Shamoon Abbasi promises a darker and definitely more realistic experience, with a canvas that is gritty, earthy and authentic.
The film's trailer begins with actress Maira Khan delivering a startling monologue as she stares into the camera, gun in hand, revealing that her husband has been missing for over a month. She intriguingly asks the audience if they know about the reality of his kidnapper, referring to the macabre cannibalistic activities of the film's antagonist which borrow from real life incidents that took place in Southern Punjab.
The shots which follow show law enforcement agencies on the prowl, before the film's centerpiece perpetrator of cannibalism, star Shamoon Abbasi in an unrecognizable unkempt avatar makes his appearance. Fully bearded and raw, the actor seems to be taking authenticity to the next level. Casting an unnerving steely-eyed gaze, he delivers a sharp taunting jibe to his captors.
We then get to witness a glimpse of actress Sherry Shah's much in the news bald look. She will be essaying what looks to be the role of the villain's accomplice. Several intense shots later, which include close-ups of remnants of human corpses, we move to the movie's chase sequences, with Maira Khan making a vow of vengeance to bring to justice those who have wronged her. The montage is interspersed with imagery of law-enforcement agencies and the criminal duo of Sherry Shah and Shamoon on the move, with glimpses of some unsettling chemistry between the latter two.
The frames reveal the stark, rugged beauty of interior Sindh where much of the film was shot, capturing the intense pulse of the film rather well. The final line, about a "fresh" human corpse, is delivered to bone-chilling perfection by Shamoon, and with that, the trailer ends on a very eerie note.
Durj's trailer perfectly showcases the film's dark and thrilling nature. The acting, photography and casting choices seem to be complementing each other rather well. The direction is looking to be pretty sharp, and one can be sure that the film is not going to be short of intense, stirring performances. And pleasantly, it stays true to its genre, without any distractions in the form of unnecessary comedy or forced song and dance numbers.
All of this ups the anticipation for the movie quite a few notches. Shot under some rather challenging conditions, Durj is an independent production with an intensity that seems to rival many epic thrillers of recent times. The look of its characters – from Shamoon's messy and disheveled avatar to Sherry Shah's gritty bald one, are likely to remain etched in the viewers' minds for a long time.
Presented by Shaam Films and directed by star Shamoon Abbasi, the film is produced by Dodi Khan and Sherry Shah. We look forward to catching Durj in the theaters, very soon!