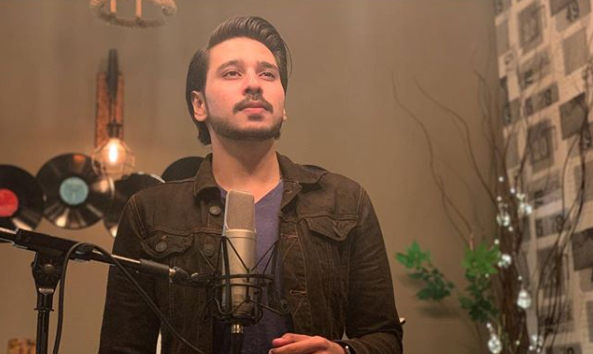 Shafqat Amanat Ali's son Saadat Amanat Ali releases his first song 'Tu'...

Shafqat Amanat Ali is a gem of the Pakistani music industry and has contributed a lot through his phenomenal work in revolutionizing the classical music in Pakistan. He has produced some masterpieces like "Aankhon Ke Saagar," "Khamaj," "Ankhiyan" and "Mitwa" out of which Aankhon Ke Saagar leads the stats by becoming one of the most popular songs in the last two decades.
Shafqat Amanat's son Saadat Amanat Ali has been introduced to the music industry by the music platform 'Bossmen' that provides a platform to artists from all around the world to showcase their talents. Saadat has made his debut in Room Files-season one.
The song 'Tu' will take you back to the '80s as it has a strong nostalgic vibe attached to it. Not just that, we can see an eerie resemblance of Saadat with his grandfather, Ustaad Amanat Ali Khan. The song has been shot in a studio that itself gives an 80's feel.
In collaboration with the musicians Ahsan Pervaiz Mehdi, Ali Pervez Mehdi, and Kumail Jeffery, Saadat has touched simple and soft notes. But his yodeling will surely make you tap your feet! Saadat has not experimented with high notes but the melody tells us Saadat's diverse range as a singer. To begin the career with a pop track is a risky choice but Saadat has done a good job.
We can surely say that Saadat, who is now representing the Patiala Gharana, has done justice to his classical music training. We are happy to see the young lot contributing to our music industry and are very excited to see what Saadat comes back with!