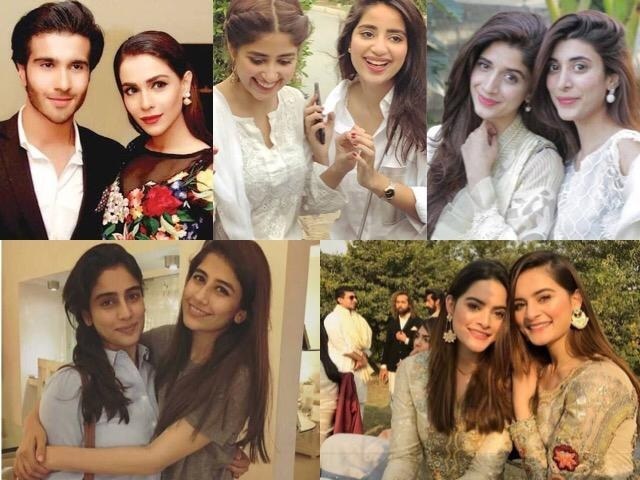 Siblings are the people whom you love and hate at the same time. This sugar and spice relationship is the best part...

Siblings are the people whom you love and hate at the same time. This sugar and spice relationship is the best part of any family. Siblings are definitely your biggest supporters and they are always there for you no matter what.
On the occasion of siblings day, let us see how celebrity siblings share this beautiful relationship.
1. Sajal and Saboor Aly:
These two style divas are one of the most famous sibling duos and they both are often seen showing off the bond they have over Instagram posts. More love for these two.
2. Aiman and Minal Khan:
The cutest Twin couple Aiman Muneeb and Minal khan are definitely your sister goals. These two make us go all "AWW" on their emotional, heart touching posts on Instagram. Ever since Aiman has gotten married, Minal often shares her feelings of how much she misses her better half. The love these two shares is so pure that it wants you to have a sibling like them. Not only for each other, but Aiman and Minal also have the same kind of love for their brothers too.
3. Urwa And Mawra Hocane:
Another beautiful and talented sister duo Urwa and Mawra has been rocking the drama and film industry for quite a while now. The very talented Mawra Hocane recently graduated the from the University of London. Urwa shared her sister's success with the world with their cute picture on Mawra's graduation day. These two each other'ser's bestfriend. They often shower wishes and love to eachother through their Instagram posts. On the occasion of Sibling's day, Urwa also posted a beautiful picture of her sibling trio and appreciated them for being their for her. The sibling love is surely so heartwarming.
4. Syra and Alishba Yousuf:
Syra and Alishba are also one of the gorgeous siblings around and their kids are also best friends as the two of them are. They both share an adorable bond with each other and they are often seen having cute little play dates with their kids.
5. Humaima Malick and Feroze Khan:
When it comes to throwing unconditional elderly sister love, nobody does it better than Humaima Malik. Not only with just Feroze khan, but Humaima is also equally loving to Dua Malick. Humaima is always seen appreciating, supporting and encouraging her younger siblings. The kind of love Humaima has for her siblings is just so endearing and motherly.
A sibling can be competitive at times but no matter what happens, they are also the one who make you laugh the loudest and shine the brightest. Having a sister or a brother is a blessing itself. They are the best gift your parents ever gave you. On this Sibling's day, Share a warm hug with your brother and sister and thank them for always being there for you in your best and worse. It's always nice to have someone to rely on.