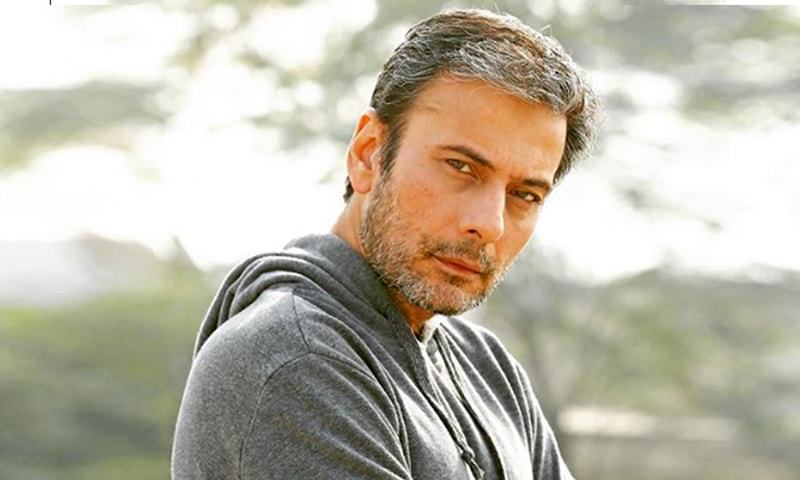 Azeem Sajjad next film 'Chaudhry' The Martyr is a biopic based on the life of (Shaheed) SSP Mohammad Aslam Khan,...

Azeem Sajjad next film 'Chaudhry' The Martyr is a biopic based on the life of (Shaheed) SSP Mohammad Aslam Khan, popularly known as Chaudhry Aslam. He was serving the Karachi police since 1987 and was famous as the encounter specialist against criminals. On January 9th, 2014, he was assassinated in Karachi. The film is an attempt to clear the controversies around him by highlighting the facts and figures. Produced by Neha Laaj, written by Zeeshan Junaid, The Martyr recently released its official poster and also wrapped up the first leg of its shooting schedule.
We at HIP got in touch with Azeem Sajjad for a detailed chat to know more about the film. Read on...
HIP: Can you give us an inkling about 'Chaudhry'?
Azeem Sajjad: Chaudhry is a film based on the true events of Chaudhry Aslam. It's primarily a biopic, keeping in view the local - international audience and commercial aspects of cinema we have shortlisted some of the famous events of his life that would hit the audience emotionally and creatively. We left the ones that we felt were not technically or creatively adequate, as we did not want it to be a documentary. We have added spices of fiction for the audience to digest within the parameters of reality; I would give an example here i.e. the makers of Bollywood film 'Sanju' combined multiple stories of Sanjay Dutt's friends into one character, therefore we tweaked the story at some places by adding in the commercial spices.
Read: "Chaudhry is an action movie based on reality with a filmy tarka," Shamoon Abbasi
HIP: What were the challenges in crafting a Biopic?
AZ: The first draft was already written by Zeeshan Junaid when I came on board last year in August. Junaid met people who directly or indirectly knew Chaudhry and were part of the true events. I gave my input in the script according to my research and came up with the second draft. The entire team along with the creative team went through it and finally, the fourth version was approved. It's an ongoing process that may continue till the completion of the film as it's a tricky subject. We have removed all the political affiliations keeping in mind the limitations of the censor board and foreign policy. I do believe people and critics that were part of Chaudhry's life may criticize to an extent, but like I said there are some cinematic boundaries that shouldn't be crossed.
HIP: What makes you so fascinated about Aslam's life?
AZ: Firstly, the film is my tribute to a martyr as I am a true patriot and come from an army background. Moreover, I have worked with ISPR and did many projects related to martyrs; although I am not part of the forces, having said that I am always a soldier of Pakistan on my resume. Secondly, post my research on his life I discovered the deep aspects that inspired me, his courage, his contributions to the country, his ambitious nature and his daring personality etc. I felt I should do this film. During the high tensions in Karachi, when not only the police the but general public also faced tough consequences, Chaudhry sacrificed his time and family and devoted himself to his job to the optimum.
HIP: Do we really need to redeem a controversial character?
AZ: Yes! This film will definitely clear the controversy. I can give you a hint i.e. the subject will address the controversial questions around his life. Personally, I would call them conspiracies against him as the enemy neighboring country and agents attempted not only to destroy Karachi but aimed to hamper Pakistan's image around the world. The answers are there in the film; it was important for us to clear the air and the audience will get to see the reality.
HIP: How much input did Aslam's family has in the Biopic?
AZ: The producer Neha Laaj (owner at Laaj Productions) at first took NOC from Chaudhry's wife 'Noreen Aslam'. She is on board and always present to guide us in every possible way in order to clarify confusions. Zeeshan Junaid (Writer) told me that Chaudhry's family was immensely supportive throughout the scripting process as well. During the shoot, Sindh police is on board with complete logistic and resources with us. They are looking forward to the film as much as we are.
HIP: Much of his life is in the public domain. How would you blend entertainment with reality within the cinematic parameters?
AZ: The interesting part about Chaudhry Aslam is that once you Google his name numerous customized videos by news channels would surface comparing him with Salman Khan with Dabang music in the background. He was already an entertainer when alive. We have utilized such infotainment blending it with music, romance, emotions, tragedy, comedy and action. We have tried to the best of our abilities, so let's see how it ends up.
HIP: Do you have any actors in mind during the scripting process or you start the casting once the script is ready? Who is playing the tutorial role of Chaudhry?
AZ: As a director I prefer casting once the script,pt is done, but for Chaudhry the lead protagonist of the film was already on board by the producer. They had conveyed it to me before I stepped in; although I wasn't bound to go with their decision. I had names of some professional actors for the part to which the producer agreed to discuss mutually. But once I met him, I realized that he was the perfect choice. 'Chaudhry Tariq Islam' plays the title of Chaudhry. He started his career with Chaudhry; they are cousins and belong to the same village. Tariq himself is a DSP has seen the highs and lows of Aslam's life and served with him for over thirty years; he is well versed with his body language, gestures, attitude and reflexes. All we had to do is replicate him and bring close to Aslam's persona on screen. In the process we hired a coach for him to undergo a training process to learn the technical aspects and basic grammar of acting. He has done a great job in fact every actor on set has praised his performance. The casting I still going on, we have categorized the casting into three layers as it's a galaxy of stars and we have to cover many aspects of his life that includes underworld action and police encounters, almost forty five actors are on board already. As for the second layer of casting we are looking for actors as it's a challenging subject and any random actor cannot fit in.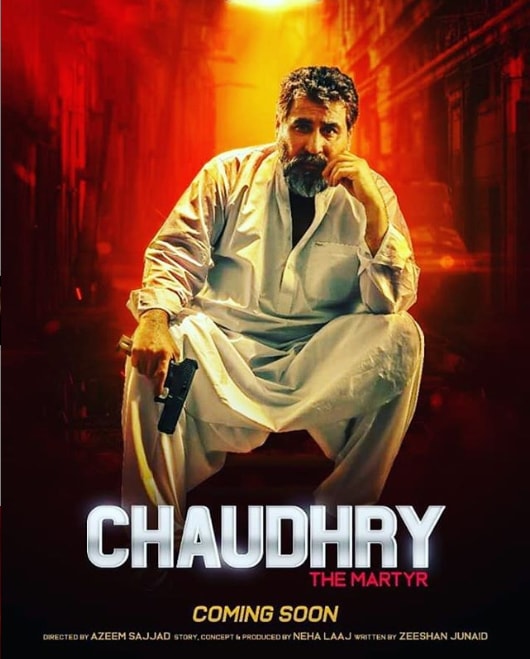 HIP: Who else is in the cast?
AZ: Like I said we require a big cast for the project, as of now Aamir Qureshi, Adnan Shah Tipu, Irfan Moti Wala, Zara Abid, Shamoon Abbasi, Sohail Sameer, Arbaz Khan, Asfar Mani, Imran Rizvi and Omair Akram are onboard. We are in talks with Jia Ali; hopefully she will join us soon. We are also in negotiations with Attaullah Khan Esakhelvi (guest appearance) for a live sequence. Zohaib Khan from Chicago is also making his debut alongside Zara Abid.
HIP: Any special reason for casting a newcomer 'Zara Abid'?
AZ: We needed fresh new faces for some characters as it's a reality based subject. We have shot with her in the schedule and she has done a great job. She suits the character; she's confident and has no hesitations facing the camera. I believe Zara is the perfect choice for the part; she has the face required for the silver screen face with so much variations. I feel she should work more in films and the industry should utilize her talent and with time and experience she would get wiser and mature.
HIP: Could you tell us about Shamoon Abbasi's character?
AZ: No I can't tell you about his role, but let me tell you one thing that Shamoon's act in Chaudhry will surely surprise the audience and break his image of cliché roles. His role is interesting yet powerful, the variation in his character will surely surpass of what he has done before. I have shot with Shamoon for a couple of days, all I can say is what a professional artist, what professional attitude, I am thankful to him that he agreed to be a part of the film. I really admire his level of dedication and glad to have him on board.
HIP: Is it important for you that your films shall have a message for the audience?
AZ: Yes indeed it's important for every film or any medium to inspire and educate the masses. Whenever I choose a project I believe we should educate through entertainment, as for Chaudhry it's a package of wholesome entertainment keeping in view the motto of infotainment. It's important to communicate the sacrifices of our real-life heroes to the upcoming generation to get inspired irrespective to any field (police, army or civil).
HIP: Do you think the huge incorporation of brands and product placements affect the creativity of the film? How do you deal with such pressures? Is it a healthy trend?
AZ: Yes it does affect but I feel this is something that cannot be overlooked from the producer's point of view. Instead, we should place the products with a natural feel that it shouldn't hamper the creative impact of the film. I won't be taking names but some of our films in the past portrayed brands in such a way, that it ended up looking like an advertisement. It's a common practice in Hollywood and Bollywood, but they do it with a realistic approach. I take such pressures very lightly; I am ok with brands and have discussed it with the producer as well. Although it isn't a healthy trend, our industry is in the initial phases, we need brands to support our films, therefore there's nothing wrong in it, if done artistically.
HIP: What role does music play in this film?
AZ: Music plays a vital role in a commercial film; we have a theme song sung by Asrar Shah with a patriotic flavour dedicated to the forces and people of Pakistan. The song is inspiring and one of my favorites from the album, then we have a romantic ballad, a club song, Chaudhry Aslam's favorite song by Attaullah Khan Esakhelvi and a Qawwali. We aim to cater the diversified choice of the masses. However, we have been unfortunate that our films in the past lack evergreen songs, I hope we break the jinx with Chaudhry.
HIP: As of now how much of the film is shot? Is it entirely shot in Pakistan?
AZ: We have completed a shooting schedule of nine days; it's still a long way to go, it's a big project, heavy on content. 85 per cent of the shoot is in Karachi, some of the portions will be shot in Abbottabad and we may go abroad to shoot a song, either USA, Dubai or Thailand; it's not decided yet.
HIP: When do you plan to release it?
AZ: Personally I want Chaudhry to release on Youm-e-Shuhada or any national day i.e. 23rd March or 14th August next year. Filmmaking is a long process with leaps and bound every here and there, so things happen in a different manner, for example 'Maula Jatt' took more than five years or Sherdil took 3 years to release. I don't want to predict or claim anything as of now.
Read: 'This is a tribute that we want to pay to police officer Chaudhry Aslam,' says Azeem Sajjad on his Film
HIP: What are your projects for TV in 2019?
AZ: Apart from Chaudhry, I am acting in a couple of projects for HUM TV. I will soon be writing a novel for an American publisher, besides I am planning to direct a couple of TV projects in 2019, so let's see how it goes.
I ended up the conversation on a lighter note by asking Azeem, why is he obsessed with Tik Tok?
AZ: One of my colleagues introduced me to Tik Tok. People have a polarized opinion on it and I don't understand why? I am an artist, why shouldn't I do it, I am an entertainer, I do nothing else but to act, I write and direct this is my domain. Things are changing with time and I really love it. Many people catch on the streets and say we saw your Tik Tok video and liked it immensely. There is no harm in doing it, as a director, I come across many readymade auditions, we can contact them and give them a chance to join the industry. We got a chance a long time back when there weren't such technological advancements. You get 15 seconds to showcase your versatility as an actor; I feel one can satisfy his-her acting cravings.