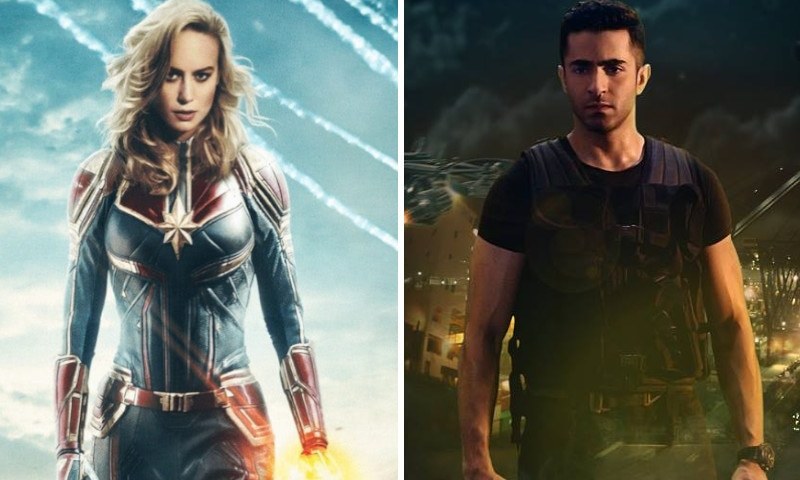 'Captain Marvel' sustained rather well over its 2nd weekend, whereas Project Ghazi managed respectable numbers in GCC…

Brie Larson starrer 'Captain Marvel' released on April 5 after a lengthy four-week delay, and to surprise of many in the trade managed a strong first-week haul of 3.95 crores, per revised numbers. The movie, first from the comic book giant Marvel to feature a female superhero, received a generally positive critical response in Pakistan and abroad, with many such as the New Yorker praising Brie Larson for "executing her (thespian) duties with resourcefulness and wit."
Big-ticket Hollywood ventures, especially comic book adaptations, tend to be rather front-loaded. 'Captain Marvel' reflected this general trend and witnessed about 50-55% falls in its second week. The film collected in the region of 1.25 crores to take its box-office gross to 5.2 crores. However, it has been said that this is a decent figure given the high grossing initial it took, and the fact that there was no strong new opener at the box office this weekend helped the movie in attracting decent footfalls.
With no new release this coming weekend, 'Captain Marvel' will sustain well and will likely cross the 6 crore mark, following which its theatrical receipts will diminish with the release of 'Avengers: End Game.' Speaking of the latter, it is set to break box office records for some time to come, however, more on that later. 'Captain Marvel' is likely to end its run at under the 7 crore mark, which will be a very good outcome. (Note: Figures courtesy Entertainment Pakistan, and are liable to changes and revisions)
And while we are on superheroes, Pakistan's very own superhero flick 'Project Ghazi' might have seen a disappointing run in the country, but the film did manage a face-saving opening in the GCC territories, in line with our earlier predictions. The picture had been picked by premiere theater chain Vox's distribution arm for the territory. The Humayun Saeed-Shehryar Munawar starter was released on 30 screens in UAE alone, where it managed to collect $18,008 or about Rs 25 lacs over the weekend. The opening numbers till the first weekday (i.e. 4 days) amounted to $22,346 or about Rs 32 Lacs.
Read: Project Ghazi: First Week Box Office Collection
This is a better than expected result, and the film should manage a final tally of around Rs 60 Lacs. 'Project Ghazi' was clearly not aimed at the traditional consumers of Pakistani cinema, for there was little by way of masala or romance, or anything remotely related to Bollywood, which reflected in its disappointing initial. The film was also adversely affected by a two-year delay and numerous script/content related issues, as was apparent in the harsh mauling it received at the hand of critics.
The coming weekend will witness a relative lull at the ticket counters, however, this is the proverbial silence before the storm, or shall we call it, a Category-5 hurricane, which is about to hit Pakistani theaters in the form of 'Avengers: End Game.' Till then, the holdovers, including the Pakistani releases, are expected to continue with their steady business.
Stay tuned to HIPinPakistan for the latest and most accurate box office analysis!