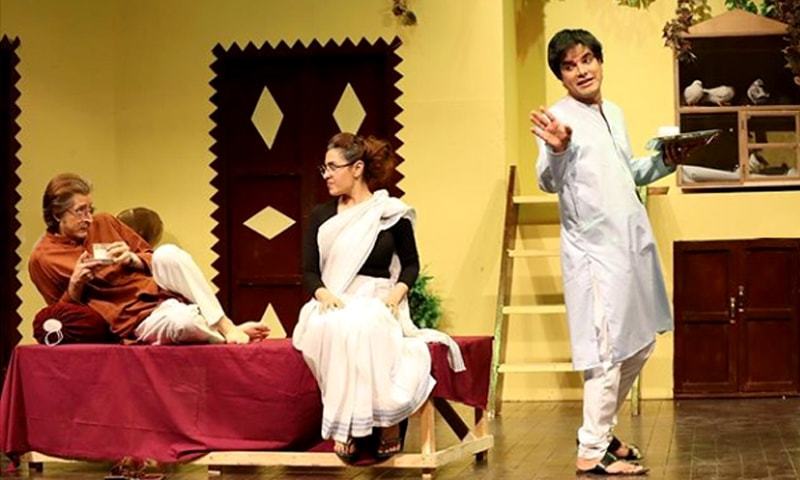 Naach Na Jaanay is a masterpiece written by Anwar Maqsood and a ride of fun and laughter...

Talking of Anwar Maqsood, what's the first thing that comes to mind? Excellence… After a successful string of plays for the theatre the maestro of words is back with 'Naach Na Jaanay' a prequel to his much loved 'Aangan Terha'. Naach Na Jaanay starts off with its original soundtrack and transports us into the '80s, it's an instant connect with the nuances of that era i.e. the gramophone, takht, gao takiya, waggling pigeons in the cage, keeping the colourful frames intact by adding an extra dose of the contemporary flavour, Maqsood right away introduces the lead protagonist Akbar (Yasir Hussain)
There isn't a quiet moment or a subtle note; continuously nourished with uttering dialogues that the audience erupts in appreciative applause. For instance, when Akbar claims Mehboob Ahmed (Abdullah Farhatullah) that he is a family member as he hasn't received his salary 30,615 rupay. He teases Jahan Ara (Sara Bhatti) referring her mother's arrival to be an emergency situation or when he takes sharp jibes at Chaudhry Sahab (Asad Gujjar) who often taunts him as a classical dancer.
There has been a major shift in the prequel in terms of characterization, as the play narrates the tale of 'Akbar' back in time during Bhutto regime, where he lived his dream of a classical dancer, was part of the dance academy and took his passion forward and travelled abroad with his group. Post the military regime of Zia-ul-Haq the country faces wide-scale shift particularly unfavourable towards the creative freedom of expression, essential for art, theatre and cinema. The dance academies were banned resulting in Akbar to take up domestic jobs in order to earn a living.
Naach Na Janaay rests on Yasir's shoulders and he carries it with his exceptional talent. Hussain completely disappears into Akbar's character; there's an ease in his performance which implies confidence. Right from the body language to the diction, he nails it with perfection. In a remarkable scene towards the end, he exhibits the emotional vulnerability and holds the audience's attention, proving that he is on top of his game.
The strong writing is complemented by equally strong performances. The dialogues need a special mention for some killer one-liners that evoke whistles and applaud. The supporting cast's authentic portrayal of their parts makes you split in laughter riots. There's also a terrific dance sequence by Wahab Shah worth the price of the ticket.
However, if you zoom in on the faults, the play is not flawless. I was desperate to see Yasir performing on 'Khamaj ki thumri', why didn't he perform, it would have been so relevant. Also, at one point Sultana (Hina Rizvee) absurd dance moves didn't add much to the humour ending up addressing the social stigma of fat shaming.
Maqsood took a slight dig at the present government in one of the most endearing moments when Akbar meets Imran Khan and chats 'Hum Naya Pakistan banayein gain', asked 'Uss mein naya kya hoga' and gets a befitting reply 'Hoga toh sub purana, buss keh dein gain keh naya hai!' Maybe it was a hint about his next play "Naya Pakistan'
Read: Anwar Maqsood to Pen Down Another Play - "Naya Pakistan"
Speaking about the tremendous response Yasir told HIP: I worked very hard and was confident that my actions as the iconic 'Akbar' would turn out huge; having said that I am always grateful to Almighty Allah for his blessings. I feel no actor can reach Saleem Nasir, he was phenomenal in whatever he portrayed. Theatre is where I hail from; it's been a huge part of my life since childhood, so it's like home to me. I believe when you come so close to a medium you understand the aesthetics of it. As of now I have developed a sense which script will work and which won't.
Naach Na Jaanay continues its glorious run in full swing at the Arts Council Karachi. The play is further scheduled to head to Lahore (13 to 22 June) and Islamabad (5th to 25th July, 2019)