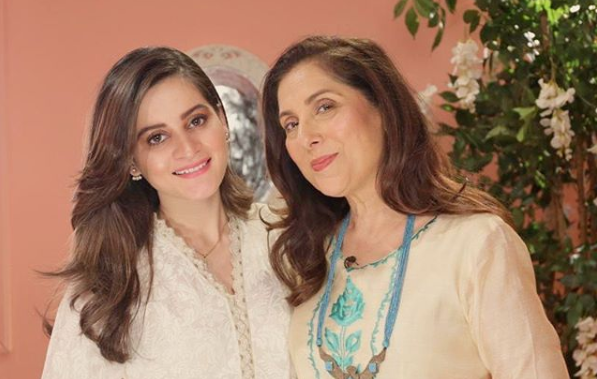 Aiman Khan talks to Samina Peerzada in her show and reveals many details about her life...

Rewind with Samina Peerzada is a unique and one of its kind show. In this show, a completely different side of our beloved celebrities comes out where they talk their heart out with the host. In this age of social media, it's hard to tell what's original and what's fake. It's difficult to look beyond the fake persona people create on social media. However, this is one show where the celebrities are transparent and openly speak about all the things they do not share with the public otherwise. Every week, Samina Peerzada sits down to talk heart to heart with a new celebrity. This week's guest was the gorgeous and talented actress, Aiman Khan.
As we all know that Aiman and Minal Khan are the favourite twins of our industry. Not only are they gifted actresses, but they also have a prominent presence on social media as well. Recently, Aiman Khan got married to Muneeb Butt in a fairy-tale wedding which lasted for days. In Rewind with Samina Peerzada, Aiman spoke about her wedding live with Muneeb, her childhood and her unique bond with her twin sister, Minal. She said that she shares a deep friendship with Muneeb which makes their relationship even more stronger. Although she has settled down in her new home and bonded with the new family, she misses her own family a lot. She says that the only draw-back of marriage is leaving your house, comfort zone and family.
While talking about her relationship with Minal, she said that they are extremely close and think that if they had a third sister, she would have felt neglected. Since they are identical twins, they used to have all the same things. For a long time, they used to dress up in the same clothes. She revealed that since she was born 28 minutes before Minal, she has always been considered the older one. Although they are identical, their personalities differ from each other. While Aiman is calm and easy-going, Minal is short tempered. However, ever since Aiman got married, Minal has become the responsible one in the house.
In their childhood, their parents and teachers had a hard time dealing with them as they would demand to have the same thing at the same time. When they started working, they would demand to work together on the same project. Eventually, the directors came up with the idea and would divide the work between them. Over time, they understood that they cannot have the same things. Aiman said that Minal felt a bit neglected when Muneeb came in her life but she understood and adjusted with the change. However, their bond is the same and stronger than ever.
As soon as the promo of the show was released, people started commenting on Aiman's weight. They started body shaming her and trolled her for gaining weight after her marriage. Most of the people made assumptions that she might be pregnant.
It is extremely disrespectful and unnecessary. It's about time people get over the century-old concept of body image.